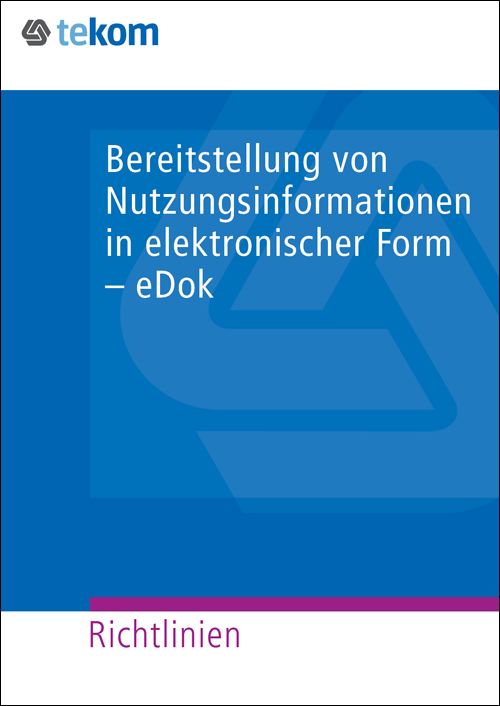 Bibliographic Information
DIN A 4, 52 Pages, 2., überarbeitete Auflage 2018
ISBN 978-3-944449-69-2 (E-Book PDF)

DIN A4, 52 Pages, 2., überarbeitete Auflage 2018
ISBN 978-3-944449-53-1 (Softcover)

Author(s): Baumgartner, Fritz, Heuer-James, Klemm, Klumpp, Michael, Schmeling
Publishing Company: tcworld GmbH
Subjects:

Legal Requirements and Standards
Categories:
60,00 €(for Members 40,00 €)E-Book PDF, 52 Pages Delivery time: 2-3 working days Status: Available
75,00 €(for Members 50,00 €)Softcover, 52 Pages Delivery time: 7-10 working days. Due to the current Corona situation, there may be production-related delivery delays. Status: Available
105,00 €(for Members 70,00 €)Bundle Softcover & E-Book PDF
Short Description
Häufig sind es rechtliche Unsicherheiten, die Verantwortliche von der Umstellung auf eine elektronische Bereitstellung der von ihnen zu liefernden Nutzungsinformationen abhält. Mit einem mehr als 20-köpfigen Expertenteam aus allen relevanten Branchen hat die tekom daher eine Richtlinie erarbeitet, die mehr Klarheit in dieser Frage schafft.
About the book
Mit der Richtlinie stellt die tekom den aktuellen Stand der Technik zum Thema elektronische Dokumentation dar. Die Publikation betrachtet die aktuellen gesetzlichen Anforderungen an die Bereitstellung der Nutzungsinformationen und zeigt einen Ansatz zur Erstellung eines Medienkonzepts, das anwendungsbezogen ist und zugleich diese Anforderungen berücksichtigt.
Inhalte der tekom-Richtlinie:
Gründe für die Reduktion des Papiereinsatzes
Rechtliche Anforderungen: Unter welchen Umständen ist Papier rechtlich erforderlich?
Rahmenbedingungen, Vor- und Nachteile von Bereitstellung auf Papier oder in elektronischer Form
Erstellung eines Medienkonzepts auf Basis von Use Cases
Handlungsempfehlungen für die Praxis, insbesondere bezüglich der notwendigen Absicherung bei elektronischer Bereitstellung in kritischen Bereichen
Referenzen (Europäische Richtlinien und Vorschriften, Normen)