Adding value and advancing expertise
Do you want your technical writers to stay up to date? Both your employees and your company can benefit from a company membership.
Company membership
Do you employ technical writers or other technical communicators like technical translators, terminologists or information developers in your company and do you want them to be always on the top regarding the latest knowledge and skills? Join a company membership for five or more employees and provide them with up-to-the-minute industry information, the latest research, helpful training opportunities and more.
Each one of your employees gets the full range of benefits of an individual membership and your company receives exclusive added value. Reduced online advertisements on our portals, an industry-specific job market and a discounted exhibition area at the tekom fairs.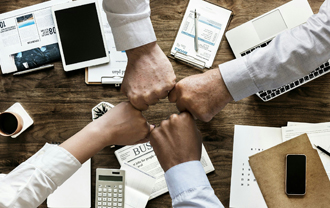 Your advantages as a company member
Your registered employees enjoy all the benefits of individual membership.
With a company membership, you automatically save on the admission fee, which is due once per company and not per individual member. Even better: If you ever want to change the registration of one of your employees, we will handle that for you as a service without additional costs.
Place free ads in our industry-specific job market and find selected, promising candidates for vacant positions in your company.
Would you like to present yourself as an exhibitor at our tekom fairs? Then your membership will save you up to 30% of the fee for exhibition area.
We offer attractive online advertising formats such as banners, ads and advertorials on which you receive a member-exclusive price reduction. You can also register free of charge in our service provider directory.
How to become a member?
Download your membership application as a PDF document.
Complete the application.
Return it either
by email to info@tekom.de,
by fax at +49 711 65704-99 or
by regular mail to our head office:

European Association for Technical Communication – tekom Europe e.V.
Heilbronner Straße 86
70191 Stuttgart, Germany
What are the membership fees?
Company member (corporation)
Registered members have the right to vote and participate actively in tekom. Non-registered employees may participate at tekom events at the reduced fee for members.
Up to 5 members
Annual fee for up to 5 registered members
Fee for half a year (membership from July)

650.00 EUR
325.00 EUR
Application fee (one-time)
60.00 EUR
Company members of new EU countries who joined in or after 2004:
Up to 5 members
Annual fee for up to 5 registered members
Fee for half a year (membership from July)

325.00 EUR
162.50 EUR
Application fee (one-time)
60.00 EUR
Discount on the annual fee if paid with a SEPA Direct Debit Mandate (if possible)
5.00 EUR