We are paving the way
Whether you are an employee or self-employed, we provide professional members with advice, specialist information, discounts and a strong network.
Individual membership
Are you a technical writer already or are you planning on working as one? No matter whether you are an employee, a career changer, fresh from university, looking for a job or self-employed, our services are worthwhile for you in all cases.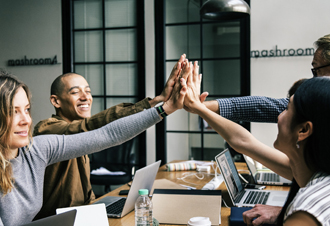 Your advantages as an individual member
Join our cross-industry community with synergetic contact opportunities. Connect for common interests and goals, and benefit from the power of bundled knowledge.
We support you wherever you are with our regionally organized events and meetings. Here you can exchange your ideas with other professionals in your trade and meet completely without digital filters. We also organize and inform you of exciting lectures in your area.
We offer free webinars on a regular basis training you on relevant and current topics in the field of technical communication. Expand your knowledge from your desk.
We promote your career. We provide high-quality information on training and further education and on available jobs in the technical communication industry, to assist you with finding a new position. Our qualification consulting assists you with your personal career planning.
As a bonus, we offer a special price for members for the TCTrain Professional Course – the international online training and certification program in Technical Communication.
Receive our 'tcworld magazine' four times a year. Alternatively, you can choose to receive the German 'technische kommunikation' magazine, which also includes an online platform with many technical articles: technischekommunikation.info
In addition to our own professional magazines, we publish practical guides, comments on standards and scientific publications on a regular basis, which you can purchase at a reduced price as a tekom member. tekom members regularly receive white papers and trend reports free of charge for download.
Our annual tcworld conference is the world's largest get-together in the industry which offers ideal networking opportunities, a comprehensive exchange of knowledge and attractive further training in workshops, professional lectures and tool presentations. As a tekom member you get significant reductions.
Visit our European Conferences at a reduced price and benefit from the personal atmosphere with only 70 to 200 participants providing great opportunities to connect with other experts in technical communication. Here you can get hands-on training in the workshops offered and listen to inspiring talks on state-of-the-art topics.
The TC Award honors outstanding information products and their authors from all over the world. The Award rewards clear, concise, correct and practice-oriented information products, honors its authors and offers all participants a qualified review. As a member, you receive a significant reduction on participation fees.
tekom is active worldwide with strong collaborations. International participants interested in technical communication get together at our events, which take place primarily in Europe and Asia. Benefit from the international expertise united under the tekom banner.
Get advice from experts, for example on legal and standards issues. We offer special "Meet the Expert – Webinars", where you can address your questions to an expert.
Our terminology database keeps you up to date on terms relevant to technical communication.
Our experts influence standardization and guidelines issues for technical communication and represent the professional association's goals in the best interest of our members.
Do you want to actively participate in the organization? Feel free to get involved in our tekom country organizations, working groups or advisory boards and help shape the future of technical communication.
What are the membership fees?
| | |
| --- | --- |
| Individual members from EU countries: | Euro (EUR) |
| Annual fee | 130.00 EUR |
| Fee for half a year (membership from July) | 65.00 EUR |
| Application fee (one-time) | 60.00 EUR |
| Annual fee for students and vocational trainees (please submit certificate) | ---- |
| Annual fee for unemployed and retired persons | 35.00 EUR |
| Application fee (one-time) | ---- |
| Individual members from EU countries who joined in or after 2004: | |
| Annual fee | 65.00 EUR |
| Fee for half a year (membership from July) | 32.50 EUR |
| Application fee (one-time) | 60.00 EUR |
| Individual members from non-EU countries: | |
| Annual fee | 160.00 EUR |
| Fee for half a year (membership from July) | 80.00 EUR |
| Application fee (one-time) | 60.00 EUR |