Instant expertise
Our whitepapers deliver the latest specialist knowledge in a nutshell.
Our digital tekom whitepapers provide up-to-date information on the latest topics and trends and summarize specialist knowledge in a clear and concise manner. tekom members can call up the whitepapers free of charge in 'my tekom'.
Are you a tekom member? Find out about the many advantages.
Our Whitepapers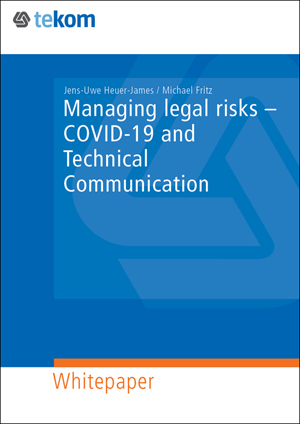 Managing legal risks – COVID-19 and Technical Communication
How should we react to the changes in situation caused by the COVID 19 pandemic? What legal aspects need to be considered by both manufacturers and customers? How do force majeure and impossibility affect us? This whitepaper will show you how to get through the Corona crisis with legal certainty.
Logged-in tekom members can download the whitepaper free of charge from our download area.