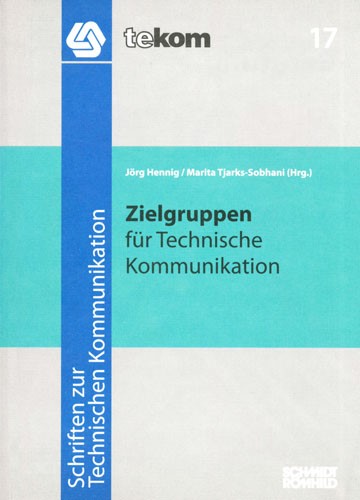 Bibliographic Information
17 x 24 cm, 168 Pages, 1. Auflage 2012
ISBN 978-3-944449-31-9 (Softcover)

Author(s): Alexander, Beier, Brettschneider, Drewer, Grünwied, Heuer-James, Heuke, Lehrndorfer, Nickl, Peter, Schäfer, Schwender, Siegel
Publisher: Marita Tjarks-Sobhani, Jörg Hennig
Publishing Company: Verlag Schmidt-Römhild
Subjects:

Information Development
Information Management
Categories:
37,50 €(for Members 25,00 €)Softcover, 168 Pages Delivery time: 7-10 working days. Due to the current Corona situation, there may be production-related delivery delays. Status: Available
Short Description
In der Publikationsreihe "Schriften zur Technischen Kommunikation" hat die tekom den 17. Band veröffentlicht: "Zielgruppen für Technische Kommunikation". Experten aus Wissenschaft und beruflicher Praxis untersuchen in diesem Sammelband in insgesamt zwölf Beiträgen die gegenwärtige und zukünftige Relevanz von Zielgruppen und Zielgruppenkriterien.
About the book
Es gibt vermutlich keinen für die Technische Kommunikation relevanten Begriff, der eine so widersprüchliche Karriere hat, wie der der Zielgruppe. Seiner in allen einschlägigen Diskussionen zur Verständlichkeit und Nutzungsfreundlichkeit immer wieder beschworenen Relevanz zum Trotz, spielt er in der praktischen Arbeit eine allenfalls marginale Rolle. In zwölf Beiträgen stellen Experten der Technischen Kommunikation grundsätzliche Probleme der Zielgruppendefinition und Zielgruppensegmentierung dar und zeigen Lösungsmöglichkeiten auf. Dabei werden vier Zielgruppenkriterien (Geschlecht, Kulturspezifik, Alter, Behinderung) exemplarisch in Hinblick auf ihre Anforderungen für die Technische Kommunikation untersucht.