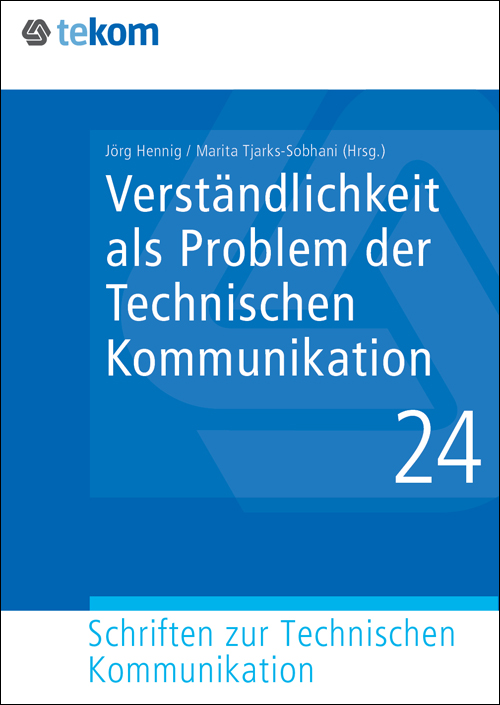 Bibliographic Information
17 x 24, 214 Pages, 1. Auflage 2019
ISBN 978-3-96393-020-1 (Softcover)

PDF, 214 Pages, 1. Auflage 2019
ISBN 978-3-96393-021-8 (E-Book PDF)

Author(s): Verhein-Jarren, Nickl, Ballstaedt, Schubert, Reuther, Schmeling, Schwender, Schiller, Villiger, Feulner, Weissgerber, Lutz, Heimböckel, Grunwald, Buddeberg
Publisher: Jörg Hennig, Marita Tjarks-Sobhani
Publishing Company: tcworld GmbH
Subjects:
Categories:
65,00 €(for Members 50,00 €)Softcover, 214 Pages Delivery time: 7-10 working days. Due to the current Corona situation, there may be production-related delivery delays. Status: Available
42,50 €(for Members 32,50 €)E-Book PDF, 214 Pages Delivery time: 2-3 working days Status: Available
86,25 €(for Members 66,25 €)Bundle Softcover & E-Book PDF
Short Description
In der Publikationsreihe "Schriften zur Technischen Kommunikation" hat die tekom den 24. Band veröffentlicht: " Verständlichkeit als Problem der Technischen Kommunikation". Erfahrene Berufspraktiker und ausgewiesene Wissenschaftler diskutieren in insgesamt 14 Beiträgen verschiedene Zugänge zur Analyse und Optimierung der Verständlichkeit von Technischer Dokumentation.
About the book
Unverändert gilt, dass für die optimale Nutzung eines Geräts oder einer Software eines unerlässlich ist: Die Dokumentation muss verständlich sein.
Die Beiträge der Publikation reichen von Überblicksdarstellungen (z.B. "Grenzen und Möglichkeiten von Verständlichkeitskonzepten"), einem Forschungsbericht zu Analphabetismus in Deutschland bis zur Erörterung von Spezial problemen (z.B. "Typografie als Verständlichkeitsfaktor") mit konkreten Handlungsanweisungen. Mit der Beschreibung der Textgenerierung durch KI-Sys teme wird ein Blick auf Möglichkeiten der Zukunft geworfen.