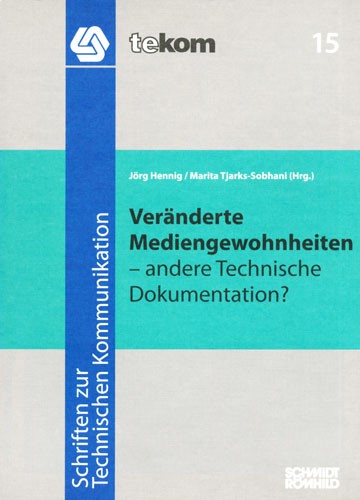 Bibliographic Information
14,8 x 21 cm, 174 Pages, 1. Auflage 2010
ISBN 978-3-944449-25-8 (Softcover)

Author(s): Becker, Bermann, Brennecke, Hasebrink, Hennig, Heuer-James, Hulitschke, Oehmig, Schmeling, Schnock, Schober, Schröter-Mayer, Siegel, Siever, Tjarks-Sobhani, Weber, Zühlke, Wagner
Publisher: Jörg Hennig, Marita Tjarks-Sobhani
Publishing Company: Verlag Schmidt-Römhild
Subjects:
Categories:
37,50 €(for Members 25,00 €)Softcover, 174 Pages Delivery time: 7-10 working days. Due to the current Corona situation, there may be production-related delivery delays. Status: Available
Short Description
In der Publikationsreihe "Schriften zur Technischen Kommunikation" hat die tekom den 15. Band veröffentlicht: "Veränderte Mediengewohnheiten – andere Technische Dokumentation?". In zwölf Beiträgen diskutieren Fachleute aus unterschiedlichen Disziplinen, wie sich neue Vermittlungstechniken und neue Mediengewohnheiten auf die Technische Kommunikation und auf das Berufsbild Technischer Redakteure auswirken.
About the book
Medienvermittelte Kommunikation ist Bestandteil des Lebens eines jeden Menschen geworden. Wenn auch die Furcht vor der angeblichen Allmacht neuer Medien meistens unbegründet ist, so ändern sich mit dem Aufkommen neuer Vermittlungstechniken die Mediengewohnheiten. Die Forschung beobachtet gegenwärtig eine stärkere Berücksichtigung der Funktionalitäten der unterschiedlichen Medien und auch eine zunehmende biografische Ausdifferenzierung. Hat die Technische Dokumentation dem bisher ausreichend Rechnung getragen? Macht sie ihre Kommunikationsangebote situations-, zielgruppen- und medienadäquat sowie rechtssicher? In zwölf Beiträgen geben Experten aus unterschiedlichen Disziplinen Antworten auf diese Fragen. Dabei reicht die thematische Spannbreite von Forschungsübersichten und theoriegeleiteten Erklärungsmodellen bis hin zu Kosten- und Nutzenrechnungen sowie zur Beschreibung des Betriebs einer kollaborativen Plattform zur Produktinformation.