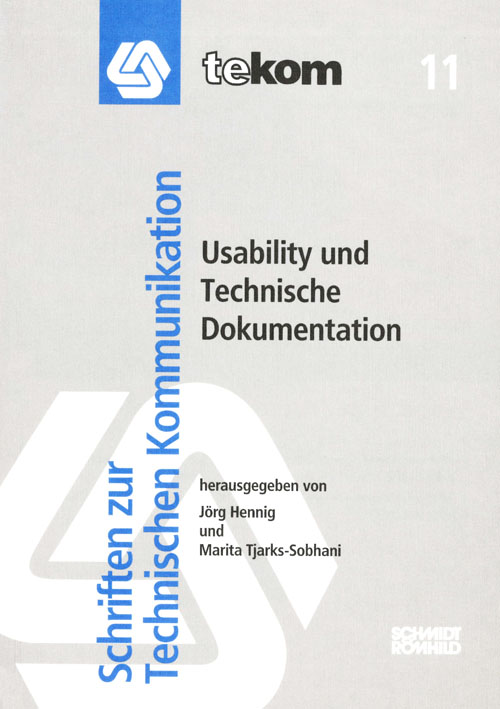 Bibliographic Information
14,8 x 21 cm, 184 Pages, 1. Auflage 2006
ISBN 978-3-944449-23-4 (Softcover)

Author(s): Baggen, Bosenick, Brecht, Dubiella, Gaidzik, Hennig, Hermann, Heuer-James, Klante, Krömker, Lehrndorfer, Meyer, Straub, Tjarks-Sobhani, Wild
Publisher: Jörg Hennig, Marita Tjarks-Sobhani
Publishing Company: Verlag Schmidt-Römhild
Subjects:

Usability
Software
Information Development
Categories:
42,50 €(for Members 27,50 €)Softcover, 184 Pages Delivery time: 7-10 working days. Due to the current Corona situation, there may be production-related delivery delays. Status: Sold out
Short Description
In der Publikationsreihe "Schriften zur Technischen Kommunikation" hat die tekom den 11. Band veröffentlicht: "Usability und Technische Dokumentation". Elf Beiträge aus Wissenschaft und Berufspraxis befassen sich damit, wie die Gebrauchstauglichkeit von Technischer Kommunikation in unterschiedlichen Nutzungskontexten methodisch verbessert werden kann.
About the book
Als Usability oder Gebrauchstauglichkeit wird das Ausmaß bezeichnet, in dem ein Produkt durch bestimmte Benutzer in einem bestimmten Nutzungskontext genutzt werden kann, um bestimmte Ziele effektiv, effizient und zufriedenstellend zu erreichen (DIN EN ISO 9241, Teil 11).
In elf Beiträgen beschäftigen sich Experten aus Wissenschaft und beruflicher Praxis mit der Frage, wie Usability-Methoden eingesetzt werden können, um die Qualität von Technischer Dokumentation zu verbessern. Dabei geht es außer um Usability-Tests u.a. auch um Nutzererwartungen an Gebrauchsanleitungen, barrierefreie Informationsangebote und Rechtsfragen.