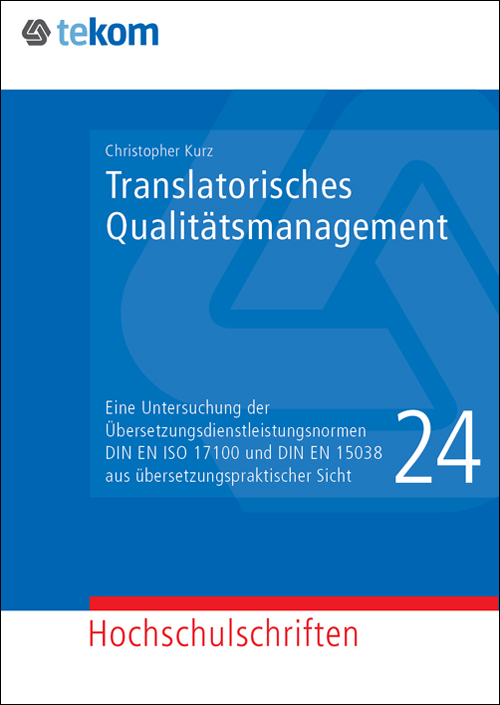 Bibliographic Information
17 x 24 cm, 484 Pages, 1. Auflage 2016
ISBN 978-3-944449-40-1 (Softcover)

PDF, 484 Pages, 1. Auflage 2016
ISBN 978-3-944449-77-7 (E-Book PDF)

Author(s): Kurz
Publisher: Jörg Hennig, Marita Tjarks-Sobhani
Publishing Company: tcworld GmbH
Subjects:

Information Management
Translation
Categories:
120,00 €(for Members 80,00 €)Softcover, 484 Pages Delivery time: 7-10 working days. Due to the current Corona situation, there may be production-related delivery delays. Status: Available
105,00 €(for Members 70,00 €)E-Book PDF, 484 Pages Delivery time: 2-3 working days Status: Available
172,50 €(for Members 115,00 €)Bundle Softcover & E-Book PDF
Short Description
In der Publikationsreihe "tekom-Hochschulschriften" ist Band 24 erschienen: "Translatorisches Qualitätsmanagement", eine Studie von Christopher Kurz. Der Normenexperte analysiert im Detail die Normen DIN EN ISO 17100 und DIN EN 15038 anhand eines neuen Qualitätsmanagementkonzepts aus prozessorientierter, übersetzungswissenschaftlicher und übersetzungspraktischer Sicht.
About the book
Im Mai 2016 erschien die Norm DIN EN ISO 17100 – "Übersetzungsdienstleistungen – Anforderungen an Übersetzungsdienstleistungen". Als deutsche Fassung der weltweit gültigen Norm ISO 17100 stellt die DIN EN ISO 17100 grundlegende Anforderungen und Prozesse dar, die für das Erbringen qualitativ hochwertiger Übersetzungsdienstleistungen erforderlich sind. Sie ist die Nachfolgenorm der EN 15038, die von 2006 bis 2016 europaweit gültig war. Beide Normen bilden das Untersuchungskorpus der vorliegenden Studie von Christopher Kurz.
Als thematisches Novum entwickelt der Normenexperte einen ganzheitlichen und prozessbasierten Ansatz zum Management von Übersetzungsdienstleistungen und Übersetzungsqualität, das Translatorische Qualitätsmanagement. Er leitet dieses Qualitätsmanagementkonzept interdisziplinär aus dem aktuellen Forschungsstand her, insbesondere aus der Betriebswirtschaftslehre, der Translationswissenschaft und der Übersetzungspraxis.
Mithilfe dieses Konzepts gelingt so erstmals eine prozessorientierte und kontrastive Analyse und Bewertung beider Übersetzungsdienstleistungsnormen, die gleichzeitig wertvolle Praxishinweise für die Technische Kommunikation und für das professionelle Management von zielsprachlichen Übersetzungsdienstleistungen bietet.