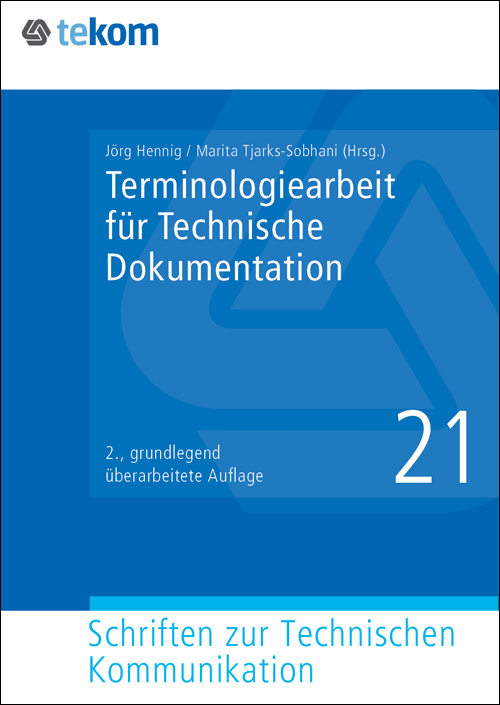 Bibliographic Information
17 x 24 cm, 200 Pages, 1. Auflage 2016
ISBN 978-3-944449-48-7 (Softcover)

PDF, 200 Pages, 1. Auflage 2016
ISBN 978-3-944449-80-7 (E-Book PDF)

Author(s): Drewer, Herwartz, Heuer-James, Keller, Mayer, Ottmann, Pich, Preissner, Reineke, Reuther, Rösener, Schmitt, Schmitz, Seewald-Heeg, Zerfaß
Publisher: Jörg Hennig, Marita Tjarks-Sobhani
Publishing Company: tcworld GmbH
Subjects:
Categories:
60,00 €(for Members 40,00 €)Softcover, 200 Pages Delivery time: 7-10 working days. Due to the current Corona situation, there may be production-related delivery delays. Status: Available
45,00 €(for Members 30,00 €)E-Book PDF, 200 Pages Delivery time: 2-3 working days Status: Available
82,50 €(for Members 55,00 €)Bundle Softcover & E-Book PDF
Short Description
In der Publikationsreihe "Schriften zur Technischen Kommunikation" hat die tekom den 21. Band veröffentlicht: "Terminologiearbeit für Technische Dokumentation" in zweiter, grundlegend überarbeiteter Auflage. Der Band versammelt 16 Beiträge namhafter Experten, die den aktuellen Stand der Terminologiearbeit in der Technischen Kommunikation aus verschiedenen Blickwinkeln beleuchten.
About the book
Technische Dokumentation ist heute ohne eine effiziente Terminologiearbeit nicht denkbar. Terminologiearbeit verbessert die Qualität der Texte, erhöht die Sicherheit für Nutzer und Produzenten und trägt durch Vereinfachung der Arbeitsprozesse zur Kostensenkung bei.
In dieser grundlegend überarbeiteten und erweiterten zweiten Auflage diskutieren Fachleute aus Wissenschaft und beruflicher Praxis in 16 Beiträgen den Ertrag von Terminologiearbeit für die Technische Dokumentation, erläutern die zu berücksichtigenden Normen, besprechen nützliche Werkzeuge und geben Hinweise für die Terminologiegewinnung und -verwaltung. Ein Schwerpunkt gilt der Rolle der Terminologiearbeit bei der Lokalisierung von Technischer Dokumentation.