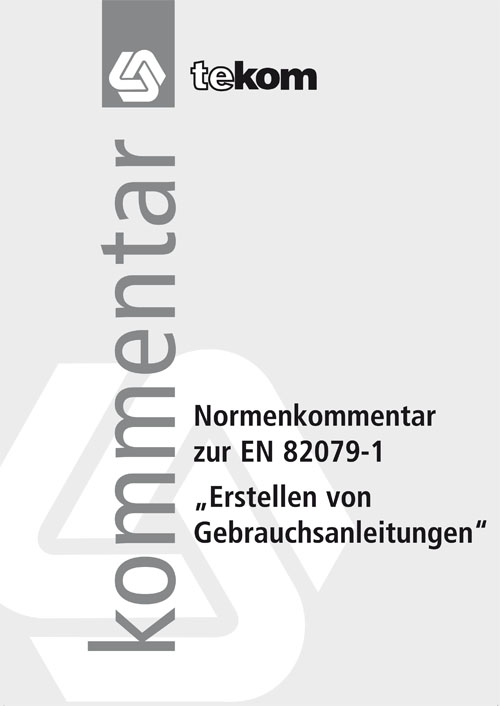 Bibliographic Information
DIN A4, 136 Pages, 1. Auflage 2013
ISBN 978-3-9814055-7-6 (Softcover)

PDF, 136 Pages, 1. Auflage 2013
ISBN 978-3-9814055-7-6 (E-Book PDF)

tekom-Normenkommentar zur EN 82079-1 "Erstellen von Gebrauchsanleitungen"
Author(s): Fritz, Heuer-James, Michael, Schmeling, Schulz
Publishing Company: Gesellschaft für Technische Kommunikation – tekom Deutschland e.V.
Subjects:

Legal Requirements and Standards
Keywords:
75,00 € (for Members 50,00 €) Softcover, 136 Pages Delivery time: Sold out Status: Sold out
60,00 € (for Members 40,00 €) E-Book PDF, 136 Pages Delivery time: Sold out Status: Sold out
Short Description
Der Kommentar zur Norm IEC/EN 82079-1 unterstützt Technische Redakteure beim gesamtheitlichen Verständnis der Norm und bietet einen umfassenden thematischen Überblick über die Veränderungen im Vergleich zur Vorgängernorm DIN EN 62079-1.
About the book
Die IEC/EN 82079-1 – als überarbeitete Nachfolgenorm der DIN EN 62079-1 – fasst die Anforderungen an alle Arten von Gebrauchsanleitungen zusammen und beschreibt allgemein deren Erstellungsprozess. Damit repräsentiert die IEC/EN 82079-1 international gesehen den "Stand der Technik" für Benutzerinformationen und setzt einen wichtigen Benchmark für die Qualität Technischer Kommunikation und Dokumentation.
Gegenüber der Vorgängernorm haben sich etliche bedeutende Veränderungen und Erweiterungen ergeben, die der Kommentar im Detail benennt:
Neu sind beispielsweise Anforderungen an die Qualifikation von Prozessbeteiligten – wie Redakteure, Übersetzer und Prüfer.
Die Betonung von Prinzipien (beispielsweise die Zielgruppenorientierung) zieht weitere neue Anforderungen an die Prozesse nach sich; so werden in der IEC/EN 82079-1 eine Zielgruppenanalyse, eine Risikobeurteilung und ein Lektorat (Proof reading) gefordert.
Ein neuer Anhang beschreibt den Prozess der Anleitungsentwicklung.
Eindeutig gefordert wird nun auch die Übersetzung in die jeweilige(n) Landessprache(n), einschließlich der erforderlichen übersetzerischen Kompetenz und des Lektorats.
Neu ist auch, dass sich die normativen Anforderungen der IEC/EN 82079-1 stets auf die Gesamtheit der Inhalte beziehen, die einem Anwender zur Verwendung eines Produkts bereitgestellt werden – unabhängig davon, ob die Inhalte in bestimmten Dokumenten, über das Internet, über eine App oder eine Verkaufsbroschüre bereitgestellt werden. Daraus folgt, dass redaktionelle Konzepte nun ganzheitlicher betrachtet werden müssen.