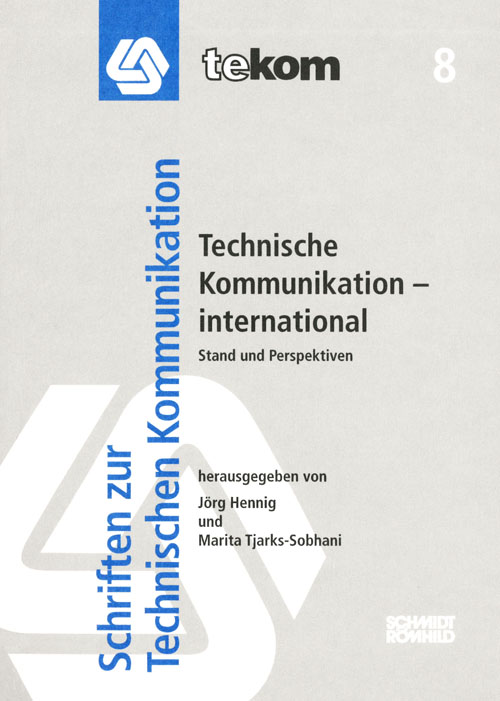 Bibliographic Information
14,8 x 21 cm, 284 Pages, 1. Auflage 2004
ISBN 978-3-944449-20-3 (Softcover)

Technische Kommunikation – international
Author(s): Fritz, Ghenghea , Zelenk, Wirtz, Watson, Verhein-Jarren, Tjarks-Sobhani, Suojanen , Ring, Rainey, Orispää, Näsström, Khalil, Just, Ilveskallio, Hill, Hennig, Hart, Haanpää, Giliarevski, Fisk, Bayliss, Balakrishna, Baker, Abdallah
Publisher: Jörg Hennig, Marita Tjarks-Sobhani
Publishing Company: Verlag Schmidt-Römhild
Subjects:
Categories:
65,00 € (for Members 42,50 €) Softcover, 284 Pages Delivery time: Sold out Status: Sold out
Short Description
In der Publikationsreihe "Schriften zur Technischen Kommunikation" hat die tekom den 8. Band veröffentlicht: "Technische Kommunikation – international. Stand und Perspektiven", die deutschsprachige Version von Band 9 "Technical Communication – international. Today and in the Future".
About the book
Entspricht das Ansehen der Technischen Kommunikation ihrer tatsächlichen Bedeutung? Ist die Ausbildung der Technischen Redakteure so, dass sie ihre wichtigsten Aufgaben adäquat erfüllen können? Wie sind die Gehälter? Wie sind die nationalen rechtlichen Regelungen? Wie werden die Perspektiven der Technischen Kommunikation eingeschätzt? Dieser Sammelband bringt zum ersten Mal Antworten zu diesen und anderen wichtigen Fragen in einer internationalen Sicht. Für 17 Länder aus Europa, Asien, Amerika und Australien bieten kompetente Autoren eine Bestandsaufnahme zu Stand und Perspektiven der Technischen Kommunikation.