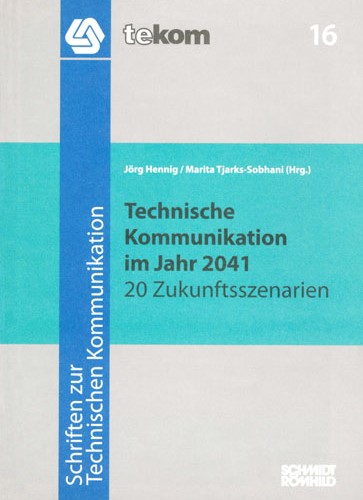 Bibliographic Information
14,8 x 21 cm, 202 Pages, 1. Auflage 2012
ISBN 978-3-944449-26-5 (Softcover)

Author(s): Ballstaedt, Baumert, Closs, Günther, Hennig, Kowalski, Krömker, Krüger, Nickl, Norbey, Oehmig, Pich, Rentz, Reuther, Schmeling, Schmitz, Schubert, Schwender, Siegel, Thiele, Tjarks-Sobhani, Verhein-Jarren, Wodaege
Publisher: Jörg Hennig, Marita Tjarks-Sobhani
Publishing Company: Verlag Schmidt-Römhild
Subjects:

Information Development
Information Management
Categories:
45,00 €(for Members 30,00 €)Softcover, 202 Pages Delivery time: 7-10 working days. Due to the current Corona situation, there may be production-related delivery delays. Status: Only a few still available
Short Description
In der Publikationsreihe "Schriften zur Technischen Kommunikation" hat die tekom den 16. Band veröffentlicht: "Technische Kommunikation im Jahr 2041". 20 Experten aus Wissenschaft und beruflicher Praxis entwerfen in diesem Sammelband Szenarien, wie die Technische Kommunikation der Zukunft aussehen könnte und wie diese Zukunft gestaltet werden kann.
About the book
Niemand kann vorhersagen, was die Zukunft bringt, auch die Wissenschaft nicht. Da die Zukunft aber nur eine Verlängerung der Gegenwart ist, lassen sich Überlegungen darüber anstellen, welche Konsequenzen Trends und Entwicklungen in der Gegenwart für die Zukunft haben werden – und ob diese Konsequenzen wünschenswert sind und ob es Gründe gibt, gegenzusteuern. Die Frage nach der Entwicklung der Technik und deren Auswirkungen auf unser gesellschaftliches und privates Leben spielt in diesem Zusammenhang eine wichtige Rolle. Damit rücken die Benutzbarkeit von Technik und die Technische Dokumentation in den Blickpunkt. 20 Fachleute aus der Wissenschaft und aus der Berufspraxis der Technischen Kommunikation entwerfen Szenarien, welche Technische Kommunikation sie in einer Generation erwarten. Schwerpunkte sind dabei u.a. das zukünftige Berufsfeld Technische Kommunikation, die Überwindung der Ein-Weg-Kommunikation mit der Einbindung der Nutzer, die zukünftige Rolle der Sprache und das Thema Nachhaltigkeit.