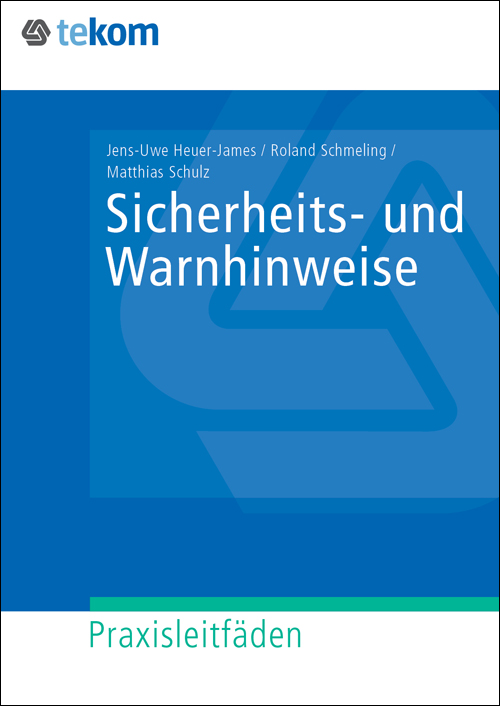 Bibliographic Information
DIN A4, 84 Pages, 1. Auflage 2014
ISBN 978-3-944449-84-5 (Softcover)

PDF, 84 Pages, 1. Auflage 2014
ISBN 978-3-944449-84-5 (E-Book PDF)

Author(s): Heuer-James, Schmeling, Schulz
Publishing Company: Gesellschaft für Technische Kommunikation – tekom Deutschland e.V.
Subjects:

Legal Requirements and Standards
Categories:
Keywords:
100,00 €(for Members 65,00 €)Softcover, 84 Pages Delivery time: Sold out Status: Sold out – new edition planned
85,00 €(for Members 55,00 €)E-Book PDF, 84 Pages Delivery time: 2-3 working days Status: Available
Short Description
Dieser tekom-Praxisleitfaden gibt Technischen Redakteuren, Technischen Illustratoren und Redaktionsmanagern einen Überblick über die internationalen gesetzlichen und normativen Anforderungen, die aus Herstellersicht beim Erstellen von Sicherheitshinweisen und Warnhinweisen in mehrsprachigen Benutzerinformationen und in internationaler Fachkommunikation zu beachten sind.
About the book
Der Praxisleitfaden ist keine "Richtlinie" im Sinne einer Norm oder einen zwingenden Vorschrift. Er zeigt vielmehr die Gestaltungsspielräume auf, die sich international aus dem gegenwärtigen Stand von Gesetzgebung und Normung ergeben, und versteht sich als strukturierte Entscheidungshilfe für den betrieblichen Alltag. Gleichzeitig erhalten aber auch Technische Redakteure, die sich klare Vorgaben wünschen, zahlreiche grafische Beispiele und konkrete Empfehlungen zur Umsetzung von Sicherheits- und Warnhinweisen.
Behandelt werden gesetzliche und normative Anforderungen an Sicherheits- und Warnhinweise in Europa, Russland, China, Brasilien und den USA.
Gute Gründe für den Praxisleitfaden:
• Aktuelle Zusammenstellung der internationalen gesetzlichen und normativen Anforderungen an mehrsprachige Sicherheits- und Warnhinweise in Benutzerinformationen
• Fundierte Einordnung sicherheitsbezogener Informationen in den Kontext von Produktentwicklung, Risikobeurteilung, Produktsicherheit und Produkthaftung
• Passgenaue Ergänzung zum tekom-Normenkommentar zur EN 82079-1 und zum Leitfaden Betriebsanleitungen (4. Auflage 2014)
• Strukturierte und fundierte Entscheidungshilfe für die Praxis durch Darstellung sowohl der normativen Anforderungen als auch der Entscheidungsspielräume
• Darstellung der maßgeblichen Entscheidungsgrundsätze und -kriterien, Gliederungsempfehlungen, zahlreiche farbige Umsetzungsempfehlungen
• 27 Tabellen und Farbabbildungen, umfangreiches Fachglossar (53 Einträge mit teils farbigen Abbildungen), umfangreiche Bibliografie (Verzeichnisse der einschlägigen internationalen Gesetze, Normen, Richtlinien und Abkürzungen), weiterführende Literaturempfehlungen