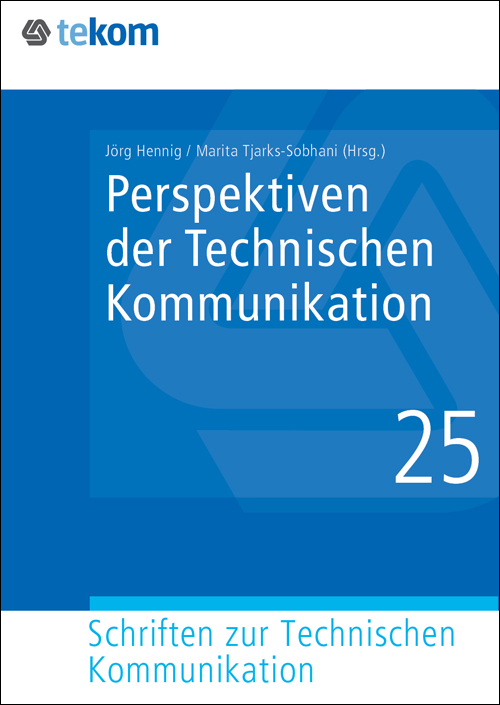 Bibliographic Information
PDF, 198 Pages, 1. Auflage 2020
ISBN 978-3-96393-051-5 (E-Book PDF)

17x24 cm, 198 Pages, 1. Auflage 2020
ISBN 978-3-96393-050-8 (Softcover)

Author(s): Ballstaedt, Closs, Grünwied, Heuer-James, Oehmig, Oevermann, Pich, Schmitz, Schober, Schwender, Siegel, Verhein-Jarren, Wodaege
Publisher: Marita Tjarks-Sobhani, Jörg Hennig
Publishing Company: tcworld GmbH
Subjects:

Job and Career
Future
Translation
Terminology
Legal Requirements and Standards
Categories:
45,00 €(for Members 30,00 €)E-Book PDF, 198 Pages Delivery time: 2-3 working days Status: Available
65,00 €(for Members 40,00 €)Softcover, 198 Pages Delivery time: 7-10 working days. Due to the current Corona situation, there may be production-related delivery delays. Status: Available
87,50 €(for Members 55,00 €)Bundle Softcover & E-Book PDF
Short Description
In der Publikationsreihe "Schriften zur Technischen Kommunikation" hat die tekom den 25. Band veröffentlicht: " Perspektiven der Technischen Kommunikation". Erfahrene Berufspraktiker und ausgewiesene Wissenschaftler diskutieren in insgesamt 13 Beiträgen verschiedene Perspektiven wichtiger Teilbereiche des Arbeitsfelds Technische Kommunikation. Er bietet sowohl eine Bestandsaufnahme ausgehend von einem Blick in die Vergangenheit als auch eine Vorausschau in die Zukunft.
About the book
Die ersten beiden Beiträge widmen sich Aspekten des Berufslebens von Technischen Redakteuren, die nächsten beiden nehmen die Nutzersicht ein. Die dann folgenden fünf Beiträge beschäftigen sich mit zentralen Themen der Technischen Dokumentation: Lokalisierung, Terminologiearbeit, Visualisierung, Standardisierung und Multimedialität. Die anschließenden Themen Intelligente Information und Informationsmanagement sind die mit dem aktuell größten Innovationspotenzial. Die beiden letzten Beiträge zu Qualitätsmanagement und normativen und rechtlichen Vorgaben nehmen die herstellerinternen Revisionsinstanzen in den Blick.