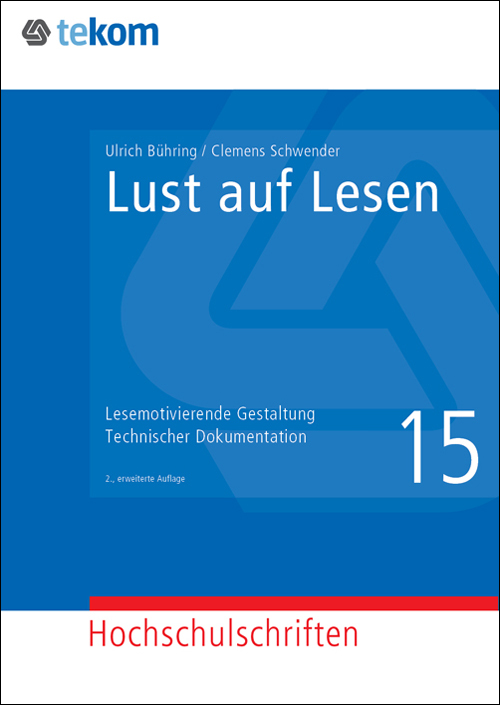 Bibliographic Information
17 x 24 cm, 156 Pages, 2. erweiterte Auflage 2017
ISBN 978-3-944449-45-6 (Softcover)

PDF, 156 Pages, 2. erweiterte Auflage 2017
ISBN 978-3-944449-73-9 (E-Book PDF)

Author(s): Bühring, Schwender
Publisher: Jörg Hennig, Marita Tjarks-Sobhani
Publishing Company: tcworld GmbH
Subjects:
Categories:
52,50 €(for Members 35,00 €)Softcover, 156 Pages Delivery time: 7-10 working days. Due to the current Corona situation, there may be production-related delivery delays. Status: Available
37,50 €(for Members 25,00 €)E-Book PDF, 156 Pages Delivery time: 2-3 working days Status: Available
71,25 €(for Members 47,50 €)Bundle Softcover & E-Book PDF
Short Description
In der Publikationsreihe "tekom-Hochschulschriften" ist der 15. Band erschienen: "Lust auf Lesen? Lust auf Lesen!" von Ulrich Bührig und Clemens Schwender. Die Verständlichkeit unterschiedlicher Textsorten ist relativ gut untersucht. Weniger weiß man hingegen über die Wirkung der unterschiedlichen Gestaltungsmöglichkeiten der Textsorte "Gebrauchsanleitung". Die in der vorliegenden Untersuchung gewonnenen Erkenntnisse geben einen Einblick in die Wirkungsweise lesemotivierender Elemente in Gebrauchsanleitungen.
About the book
Nicht nur Gesetzgeber und Hersteller stellen Anforderungen an die Gestaltung von Benutzerinformationen, sondern auch der Endkunde – denn um ihn als Leser geht es letztlich. Kunden besitzen mehr oder weniger klare Vorstellungen, wie eine gute und motivierende Gebrauchsanleitung aussehen sollte. Neben der Erwartung, dass der Inhalt richtig und verständlich dargeboten ist, kann die Aufmachung – der optische Eindruck – entscheidend für die Rezeptionstiefe und -dauer sein: Der Spaß am Lesen entscheidet definitiv mit über die Freude am Produkt.
Um dieses Ziel ökonomisch zu erreichen, muss man sich Gedanken über den kommunikativen Akt der Technikinstruktion machen. Klar ist, dass es für die langfristige Freude am Produkt nicht ausreicht, dem Gerät einfach einen Zettel beizulegen, der zwar irgendwie alle gesetzlichen und normativen Anforderungen erfüllt, aber keine lesemotivierende Anordnung und Gestaltung der Benutzerinformationen bietet.
Ebenso klar ist: Grafikprogramme und Layoutsysteme helfen zwar den Redakteuren und Illustratoren, aber auch die beste Technik allein genügt nicht, um gute und lesemotivierende Informationen zu erstellen. Technische Kommunikation ist eine Form der Kommunikation zwischen Hersteller und Nutzer, und hierfür sind Sprachgefühl, Stilempfinden und ein Gespür für Lesemotivation durch keine noch so gute Technik zu ersetzen. Denn was der Leser bereits vor dem Lesen wahrnimmt, sind lesemotivierende Elemente wie Stil und Aussehen, Ansprache und Gestaltung, Form und Aufmachung, Farben und Grafiken. Bewusst oder unbewusst überträgt er seine Erfahrung mit den Benutzerinformationen des Unternehmens – die einen Teil der strategischen Unternehmenskommunikation und der Kundenwertschätzung repräsentieren – auf das Produkt und auf das Unternehmen selbst.
Im empirischen Teil der vorliegenden Arbeit werden unterschiedliche Einflüsse auf die Lesemotivation durch folgende Gestaltungselemente theoretisch hergeleitet und empirisch überprüft:
Typografie (Schriftarten und Schriftgrößen)
Weißraum
Farben als Orientierungshilfe
Beispiele
Umfang
Zusammenfassungen
Comics
Bilder
Humor (durch Karikaturen)
Untersucht werden Gemeinsamkeiten und Unterschiede der Vorlieben nach demografischen Merkmalen wie Alter, Geschlecht und Bildung sowie Aspekten der Technikaffinität und des anleitungsspezifischen Leseverhaltens. Anhand der Untersuchungsergebnisse lassen sich allgemein akzeptierte Gestaltungsmerkmale einer guten und lesemotivierenden Anleitung herleiten und individuell im Detail ausarbeiten.
Dieses Buch entstand auf der Grundlage der Masterthesis "Lesemotivation in technischen Anleitungen" von Ulrich Bührig.