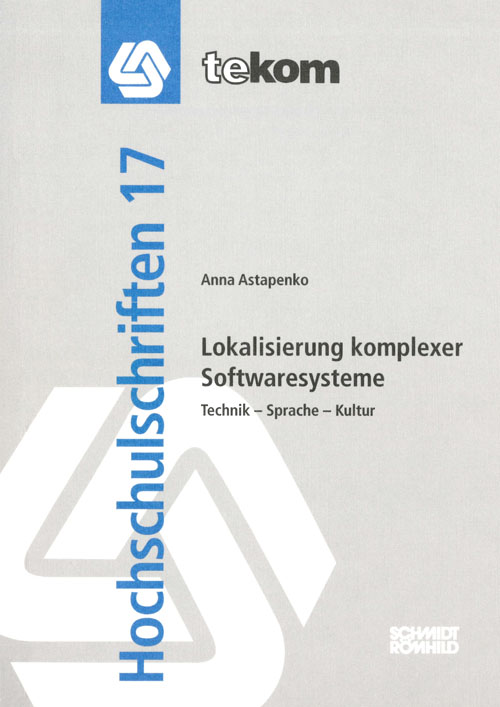 Bibliographic Information
14,8 x 21 cm, 207 Pages, 1. Auflage 2008
ISBN 978-3-944449-11-1 (Softcover)

Author(s): Astapenko
Publisher: Jörg Hennig, Marita Tjarks-Sobhani
Publishing Company: Verlag Schmidt-Römhild
Subjects:
Categories:
45,00 €(for Members 30,00 €)Softcover, 207 Pages Delivery time: 7-10 working days. Due to the current Corona situation, there may be production-related delivery delays. Status: Available
Short Description
In der Publikationsreihe "tekom-Hochschulschriften" ist der 17. Band veröffentlicht: die Dissertation "Lokalisierung komplexer Softwaresysteme" von Anna Astapenko. Die Studie bietet zahlreiche Empfehlungen für die Prozessoptimierung in interdisziplinären und kulturübergreifenden Softwarelokalisierungsprojekten.
About the book
Die Lokalisierung von Software ist ein höchst anspruchsvoller Prozess. Die vorliegende Arbeit versteht sich als eine interdisziplinäre Untersuchung an der Grenze zwischen den Spezialgebieten Fachsprachenforschung, Informatik und Ingenieurwesen. An der Schnittfläche dieser Disziplinen befindet sich die Softwarelokalisierung, die erst unter Berücksichtigung technischer, kultureller und sprachlicher Aspekte effizient funktionieren kann. Zentrale Begriffe dabei sind interfachliche Kommunikation, interkulturelle fachinterne Kommunikation beim Softwareeinsatz im Ausland, fachliche Traditionen, Terminologiearbeit, kulturelle Werte und Lokalisierungswerkzeuge.
Untersuchungsgegenstand dieser empirischen Studie ist die Lokalisierung deutscher Infrastrukturplanungssoftware für den russischsprachigen Markt. Die in der Arbeit vorgelegten Daten stellen eine empirische Analyse der Lokalisierungsarbeiten für das Sprachpaar Deutsch-Russisch dar, die von der in Minsk (Weißrussland) geborenen Autorin in den Jahren seit 2001 mit bearbeitet und seit 2004 geleitet wurden. Die dabei in der Praxis gewonnenen Erfahrungen werden hier für die allgemeine Anwendung aufbereitet.