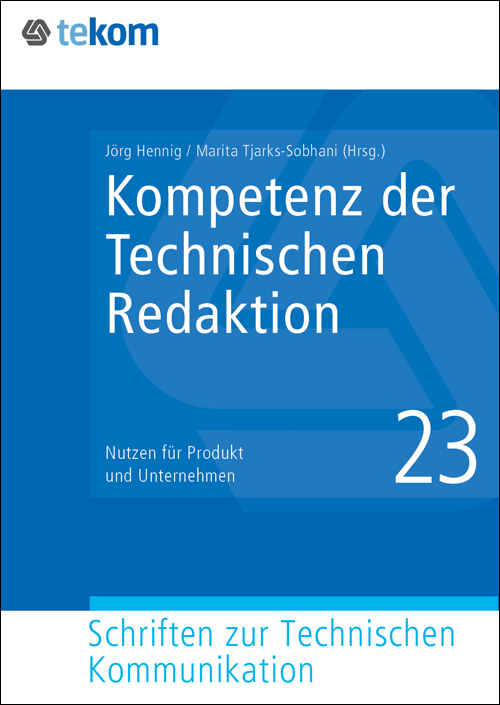 Bibliographic Information
17 x 24 cm, 213 Pages, 1. Auflage 2018
ISBN 978-3-944449-95-1 (Softcover)

PDF, 213 Pages, 1. Auflage 2018
ISBN 978-3-944449-96-8 (E-Book PDF)

Author(s): Ballstaedt, Drenckhan, Erhardt, Fleischmann, Fleury, Fleury, Grünwied, Gust, Gust, Heuer-James, Oehmig, Parson, Pich, Richter, Robers, Schaffner, Schiller, Straub, Verhein-Jarren
Publisher: Jörg Hennig, Marita Tjarks-Sobhani
Publishing Company: tcworld GmbH
Subjects:
Categories:
65,00 €(for Members 42,50 €)Softcover, 213 Pages Delivery time: 7-10 working days. Due to the current Corona situation, there may be production-related delivery delays. Status: Available
50,00 €(for Members 32,50 €)E-Book PDF, 213 Pages Delivery time: 2-3 working days Status: Available
90,00 €(for Members 58,75 €)Bundle Softcover & E-Book PDF
Short Description
In der Publikationsreihe "Schriften zur Technischen Kommunikation" hat die tekom den 23. Band veröffentlicht: "Kompetenz der Technischen Redaktion — Nutzen im Unternehmen". Der Band versammelt 14 Beiträge namhafter Experten, die den aktuellen Stand und Nutzen der Kompetenzanforderungen in der Technischen Kommunikation aus verschiedenen Blickwinkeln beleuchten.
About the book
Die Digitalisierung im Gefolge von Industrie 4.0 verändert zunehmend die Arbeitswelt der Technischen Redakteure. Es erscheint angebracht, sich über die Kompetenzen Gedanken zu machen, die wegen dieser Veränderungen erforderlich werden. Dabei geht es auch um deren Bedeutung für Produkt und Unternehmen. Erkennbar werden neue Spezialisierungen für die zukünftige Arbeit.
In 14 Beiträgen diskutieren Fachleute aus Wissenschaft und beruflicher Praxis dieses komplexe Themenfeld, das sowohl konzeptuelle Überlegungen (Usability und Technische Dokumentation; Technische Redakteure als Wissensmanager) als auch Praxismodelle (Korrektorat als Aufgabenfeld; Text-Bild-Kombinierer) umfasst.