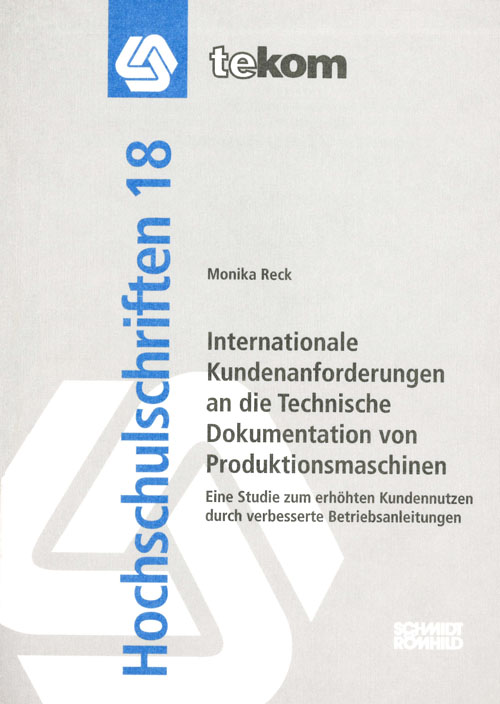 Bibliographic Information
14,8 x 21 cm, 160 Pages, 1. Auflage 2008
ISBN 978-3-944449-12-8 (Softcover)

Author(s): Reck
Publisher: Jörg Hennig, Marita Tjarks-Sobhani
Publishing Company: Verlag Schmidt-Römhild
Subjects:
Categories:
37,50 €(for Members 25,00 €)Softcover, 160 Pages Delivery time: 7-10 working days. Due to the current Corona situation, there may be production-related delivery delays. Status: Only a few still available
Short Description
In der Publikationsreihe "tekom-Hochschulschriften" ist der 18. Band erschienen: die Masterthesis "Internationale Kundenanforderungen an die Technische Dokumentation" von Monika Reck. Die Studie bietet vielfältige Hilfestellung bei der Erstellung optimaler internationaler Technischer Dokumentation.
About the book
Um in der Branche Maschinen- und Sondermaschinenbau erfolgreich am internationalen Markt teilnehmen zu können, genügt es für Hersteller nicht, die gesetzlichen Mindestanforderungen im Bereich der Technischen Dokumentation zu erfüllen. Vielmehr stellt die Technische Dokumentation eine sehr große Chance dar, Kundenzufriedenheit und Kundenbindung zu erzeugen, indem sie den Gebrauchsnutzen von Produkten erhöht und optimale Unterstützung im Umgang mit denselben bietet. Eine zielgerichtete Technische Dokumentation, die den Wünschen und Anforderungen der Nutzer entspricht, hilft außerdem Kosten zu sparen – besonders vor dem Hintergrund der komplexer werdenden Produkte und der steigenden Zahl von benötigten Übersetzungen in Landessprachen.
Doch wie sieht eine optimale Technische Dokumentation aus Sicht der Nutzer aus? Dieses Buch beinhaltet die Ergebnisse einer internationalen Studie, die in Form einer Befragung in fünf Ländern durchgeführt wurde. Es werden detaillierte Antworten gegeben, u.a. zu den Themen: Analyse der Zielgruppe, Zugriff auf die Dokumente, Nutzerverhalten innerhalb der Dokumente, momentane Zufriedenheit sowie jetzige und zukünftige Anforderungen.
Außerdem beziehen die Befragten Position zu den Zukunftstrends in der Technischen Dokumentation und zeigen ihre Wünsche an die Produktionsmaschinen der Zukunft auf. Die aus der Studie gewonnenen Ergebnisse bieten eine konkrete Hilfestellung bei der Erstellung von optimaler internationaler Technischer Dokumentation.