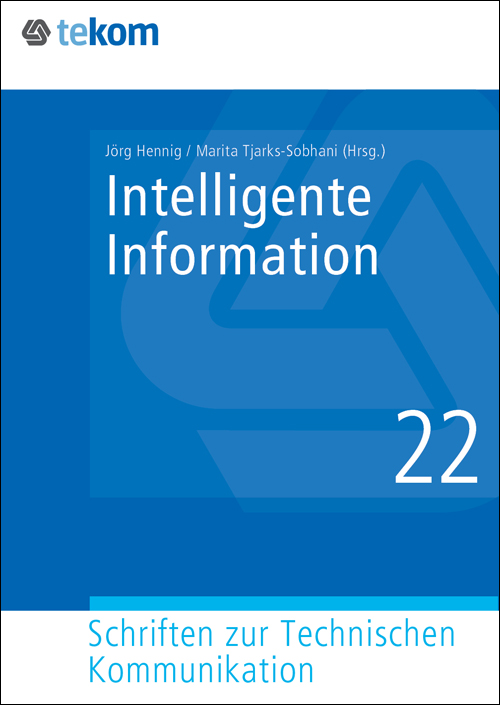 Bibliographic Information
17 x 24 cm, 175 Pages, 1. Auflage 2017
ISBN 978-3-944449-60-9 (Softcover)

PDF, 175 Pages, 1. Auflage 2017
ISBN 978-3-944449-70-8 (E-Book PDF)

Author(s): Closs, Fritz, Göttel, Heuer-James, Leukert, Nuding, Oevermann, Parson, Sapara, Schaffner, Schober, Steurer, Ziegler
Publisher: Marita Tjarks-Sobhani, Jörg Hennig
Publishing Company: tcworld GmbH
Subjects:
Categories:
52,50 €(for Members 35,00 €)Softcover, 175 Pages Delivery time: 7-10 working days. Due to the current Corona situation, there may be production-related delivery delays. Status: Available
37,50 €(for Members 25,00 €)E-Book PDF, 175 Pages Delivery time: 2-3 working days Status: Available
71,25 €(for Members 47,50 €)Bundle Softcover & E-Book PDF
Short Description
In der Publikationsreihe "Schriften zur Technischen Kommunikation" hat die tekom den 22. Band veröffentlicht: "Intelligente Information". Der Band versammelt 13 Beiträge namhafter Experten, die den aktuellen Stand der Intelligenten Information in der Technischen Kommunikation aus verschiedenen Blickwinkeln beleuchten.
About the book
Die Digitalisierung hat alle Lebensbereiche erfasst. Die steigende Zahl der Wortverbindungen mit "smart" (Smartboard, Smartcard, Smarthome) macht das deutlich. "Digitale Transformation" ist die viel besprochene Bezeichnung für diesen Prozess, dem sich auch die Technische Dokumentation nicht entziehen kann.
In 13 Beiträgen beschäftigen sich in diesem Band Wissenschaftler und Fachleute aus der beruflichen Praxis mit Problemen und Fragen, die sich im Umfeld von Industrie 4.0 für die Technische Dokumentation stellen. So geht es u.a. um die Bedeutung von Metadaten, einen neuen Kontextbegriff, Augmented Reality und rechtliche Aspekte. In mehreren Beiträgen wird "iiRDS" behandelt, ein Standard, den die tekom seit 2016 entwickelt.