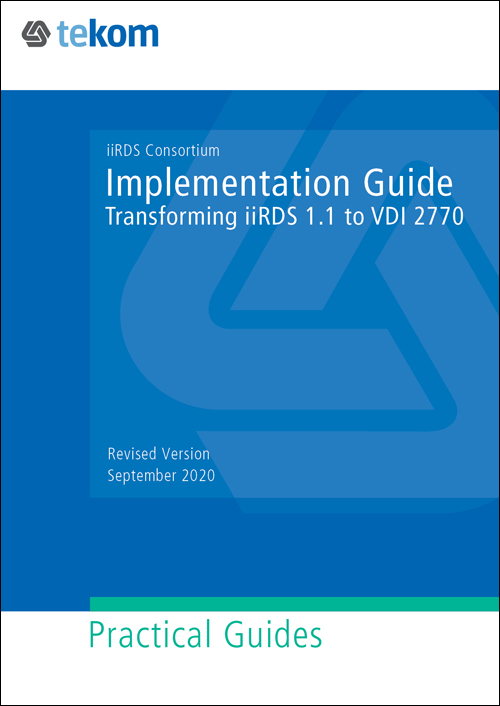 Bibliographic Information
PDF, 43 Pages, 2020
ISBN 978-3-96393-063-8 (E-Book PDF)

DIN A4, 43 Pages, 2020
ISBN 978-3-96393-062-1 (Softcover)

Author(s): iiRDS Consortium
Publishing Company: tcworld GmbH
Subjects:

Information Development
Information Management
Categories:
350,00 €(for Members 250,00 €)E-Book PDF, 43 Pages Delivery time: 2-3 working days Status: Available
380,00 €(for Members 280,00 €)Softcover, 43 Pages Delivery time: 7-10 working days. Due to the current Corona situation, there may be production-related delivery delays. Status: Available
555,00 €(for Members 405,00 €)Bundle Softcover & E-Book PDF
About the book
During the past years, the two standards iiRDS and VDI 2770 have created waves within the field of technical communication and have often been considered to be in competition. However, iiRDS, the standard that enables the request and delivery of intelligent information, and VDI 2770, which defines minimum requirements for digital manufacturer information for the process industry, are not far apart. VDI 2770 can be seen as a specialization of iiRDS.
The iiRDS/VDI 2770 Implementation Guide lists requirements and transformation steps for iiRDS metadata to generate VDI 2770-compliant packages from iiRDS packages. It includes a high-level mapping of the two metadata models and sample metadata files of a package in both formats.