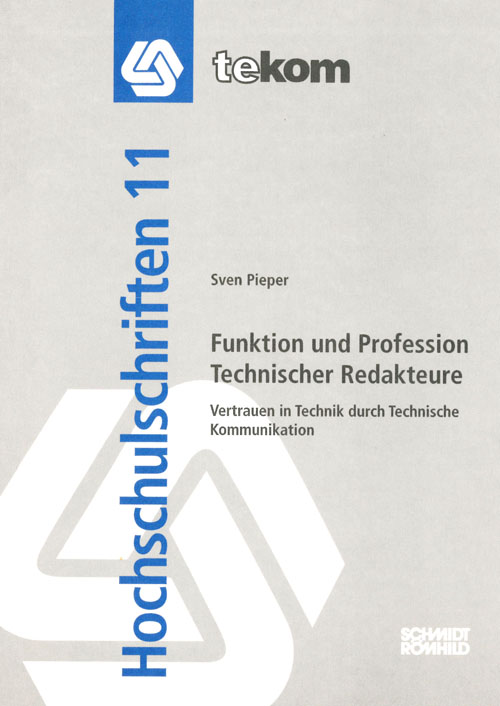 Bibliographic Information
14,8 x 21 cm, 107 Pages, 1. Auflage 2004
ISBN 978-3-944449-05-0 (Softcover)

Funktion und Profession Technischer Redakteure
Author(s): Pieper
Publisher: Jörg Hennig, Marita Tjarks-Sobhani
Publishing Company: Verlag Schmidt-Römhild
Subjects:
Categories:
27,50 € (for Members 17,50 €) Softcover, 107 Pages Delivery time: Sold out Status: Sold out
Short Description
In der Publikationsreihe "tekom-Hochschulschriften" ist der 11. Band veröffentlicht: die Studie "Funktion und Profession Technischer Redakteure" von Sven Pieper. Die Arbeit beschäftigt sich mit Technischer Kommunikation aus der Perspektive der Soziologie, insbesondere der sozialwissenschaftlichen Technikforschung.
About the book
Dazu wird im ersten Teil die Tätigkeit des Technischen Redakteurs dargestellt, mit speziellem Fokus auf Entwicklung und Professionalisierung des Berufsbild sowie einschlägiger Ausbildungsangebote. In berufssoziologischer Hinsicht wird Technische Kommunikation als Wissensberuf beschrieben und fachwissenschaftlich verortet.
Globalisierte und hochdynamische Märkte bedeuten zudem eine immer größere Relevanz des Wissens als Ressource, genauer: Wissensbestände veralten immer schneller und die eigentliche Herausforderung liegt im professionellen Umgang mit Nicht-Wissen, Unsicherheit und Unbestimmtheit. Auch die Entwicklung und Aneignung von neuen Formen des Lernens in Organisationen ist ein sozialwissenschaftliches Thema, aus dem die Technische Kommunikation als interdisziplinärer Tätigkeitsbereich beachtliche Erkenntnisse ziehen kann.
Ein weiteres berufssoziologisches Augenmerk liegt auf spezifischen Qualitätskriterien für Technische Kommunikation, die eine Reihe von hohen Ansprüchen unterschiedlicher Art an die professionelle Tätigkeit und die Informations- und Kommunikationsprodukte der Technischen Redakteure stellen. Informations- und Kommunikationsprodukte müssen hohen Anforderungen genügen, wenn sie die von ihnen erwartete und geforderte didaktische Vermittlungs- und Instruktionsleistung erbringen sollen. Werden diese Qualitätskritieren und -anforderungen hingegen nicht ausreichend erfüllt, so schlagen Kommunikationen fehl und können die nachgelagerte Aufgabe der Vertrauensgenerierung nicht erfüllen.
Daran schließt sich im zweiten Teil die Hauptthese der Arbeit an: Eine Funktion und Aufgabe von Technischer Kommunikation ist das prozessual-wachstümliche Generieren und Kommunizieren von Vertrauen in Technik.
Um dies zu verdeutlichen, wird auf das sprachwissenschaftliche Konzept der Einflusskommunikation verwiesen, die im Gegensatz zu anderen Kommunikationsarten einen großen Zeithorizont hat und eine Langzeitwirkung erzielen will. Die Funktion der Generierung von Vertrauen findet sich außerdem bei Kommunikationsprozessen wie der Public Relations (PR) und des Public Understanding of Science (PUS), die ebenfalls als Referenzen herangezogen werden. Die Arbeit gibt zahlreiche Empfehlungen, wie Technische Redakteure die neueren wissenschaftlichen Forschungsergebnisse aus diesen Kommunikationsbereichen nutzbringend in der Praxis anwenden können.