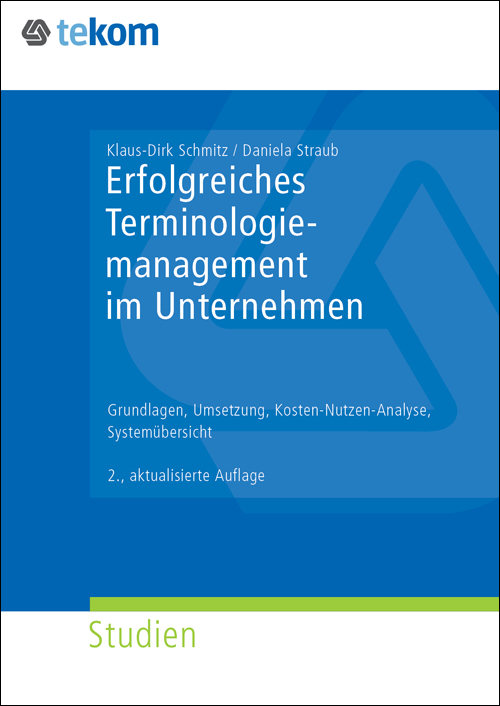 Bibliographic Information
DIN A4, 285 Pages, 2., aktualisierte Auflage 2016
ISBN 978-3-9812683-5-5 (Softcover)

PDF, 286 Pages, 2., aktualisierte Auflage 2016
ISBN 978-3-96393-029-4 (E-Book PDF)

Author(s): Straub, Schmitz
Publishing Company: tcworld GmbH
Subjects:

Information Management
Terminology
Categories:
260,00 €(for Members 170,00 €)Softcover, 285 Pages Delivery time: 7-10 working days. Due to the current Corona situation, there may be production-related delivery delays. Status: Available
250,00 €(for Members 160,00 €)E-Book PDF, 286 Pages Delivery time: 7-10 working days Status: Available
385,00 €(for Members 250,00 €)Bundle Softcover & E-Book PDF
Short Description
Seit Erscheinen der Norm IEC/EN 82079-1 führt in der Technischen Kommunikation kein Weg mehr am Thema Terminologie vorbei: Die Norm fordert sowohl die Durchgängigkeit (Konsistenz) als auch die Angemessenheit (Adäquatheit) von Terminologie in produktbegleitenden Informationen. Die aktualisierte zweite Auflage der tekom-Terminologiestudie hilft bei der praktischen Umsetzung.
About the book
Terminologiearbeit ist in vielen Unternehmen ein aktuelles Thema: Die Ergebnisse einer repräsentativen Umfrage (2015) zeigen, dass knapp drei Viertel der Befragungsteilnehmer sich mit dem Thema Terminologie und Terminologiemanagement auseinandersetzen.
Und dies nicht ohne Grund: Erfolgreiche und effiziente Kommunikation – sowohl unternehmensintern als auch zwischen Unternehmen und Kunden – wird durch eine konsistente und verständliche Terminologie getragen. Ohne aktive Terminologiearbeit drohen Probleme wie interne Missverständnisse, Fehlbestellungen von Kunden oder falsche Übersetzungen.
Um alle an Terminologiearbeit Interessierten kompetent zu unterstützen, hat die tekom ihre Terminologiestudie aktualisiert. Erfahren Sie in der aktualisierten zweiten Auflage mehr über:
Die wichtigsten Grundlagen der Terminologielehre
Praktische Terminologiearbeit im Unternehmen
Eine Kosten-Nutzen-Analyse mit Schritt-für-Schritt-Anleitung,
Eine empirische Analyse von Terminologieproblemen und aktueller Terminologiearbeit in Unternehmen
Eine Beschreibung aller Funktionalitäten von Terminologiewerkzeugen
Erfahrungen von Anwendern und Fallbeispiele
Eine vergleichende Übersicht über 17 internationale Terminologiewerkzeuge
Außerdem finden Sie eine vergleichende Übersicht über international marktrelevante Terminologiewerkzeuge.