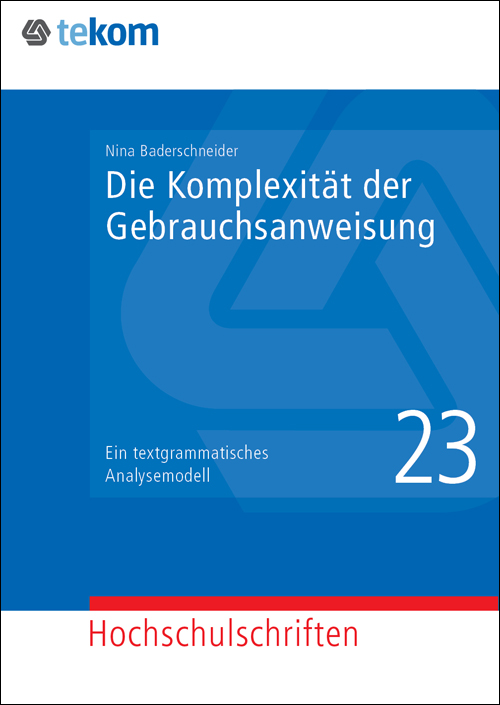 Bibliographic Information
17 x 24 cm, 270 Pages, 1. Auflage 2015
ISBN 978-3-944449-38-8 (Softcover)

PDF, 270 Pages, 1. Auflage 2015
ISBN 978-3-96393-033-1 (E-Book PDF)

Author(s): Baderschneider
Publisher: Jörg Hennig, Marita Tjarks-Sobhani
Publishing Company: tcworld GmbH
Subjects:

Information Development
Language
Categories:
75,00 €(for Members 50,00 €)Softcover, 270 Pages Delivery time: 7-10 working days. Due to the current Corona situation, there may be production-related delivery delays. Status: Available
60,00 €(for Members 40,00 €)E-Book PDF, 270 Pages Delivery time: 2-3 working days Status: Available
105,00 €(for Members 70,00 €)Bundle Softcover & E-Book PDF
Short Description
In der Publikationsreihe "tekom-Hochschulschriften" ist der 23. Band veröffentlicht: die Dissertation "Die Komplexität der Gebrauchsanweisung" von Nina Baderschneider. Die Autorin entwickelt darin ein umfassendes textgrammatisches Analysemodell für komplexe Texte, das sie auf die Textsorte 'Gebrauchsanweisungen' anwendet.
About the book
In der textgrammatischen Forschung liegen bereits einige Methoden zur Analytik von Kleintexten vor. Wie aber muss die textgrammatische Analyse von komplexen und weitaus umfangreicheren Texten gestaltet sein, beispielsweise von Gebrauchsanweisungen?
In ihrer Dissertation "Die Komplexität der Gebrauchsanweisung" widmet sich Nina Baderschneider dieser Frage, entwickelt ein umfassendes Analysemodell und leistet damit einen wichtigen Beitrag zu einer Textgrammatik der deutschen Gegenwartssprache. Der modulare Aufbau komplexer Texte sowie die Definition ihrer Einheiten und deren Kohärenzbeziehungen stehen im Fokus der Untersuchung.
Praktisch wird das Analysemodell auf ein Korpus aus Gebrauchsanweisungen für Haushaltsgeräte angewandt. Neben einer detaillierten Text- und Textsortendefinition werden auch Texteigenschaften betrachtet, die für den Arbeitsbereich der Technischen Redaktion von Interesse sind wie Corporate Identity, Gerätetypenmerkmale oder die Benennung von Textgegenständen. Aufbauend auf den Analyseergebnissen wird ein typischer Repräsentant der Textsorte beschrieben.