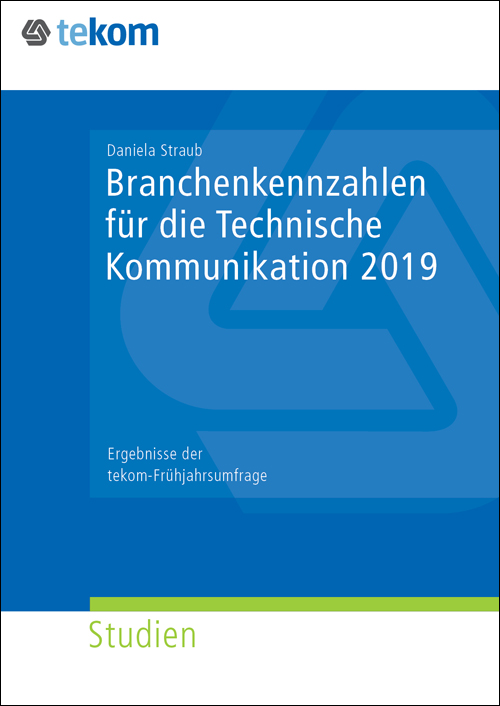 Bibliographic Information
DIN A4, 43 Pages, 1. Auflage 2019
ISBN 978-3-96393-018-8 (Softcover)

PDF, 43 Pages, 1. Auflage 2019
ISBN 978-3-96393-019-5 (E-Book PDF)

Author(s): Straub
Publishing Company: tcworld GmbH
Subjects:
Categories:
95,00 €(for Members 15,00 €)Softcover, 43 Pages Delivery time: 7-10 working days. Due to the current Corona situation, there may be production-related delivery delays. Status: Available
80,00 €(for Members 0,00 €)E-Book PDF, 43 Pages Delivery time: 2-3 working days Status: Available
135,00 €(for Members 15,00 €)Bundle Softcover & E-Book PDF
Short Description
Die tekom führt jährlich eine Branchenumfrage durch, die die aktuellen Kennzahlen und die derzeitigen Trends in der Technischen Kommunikation ermittelt. Zentrale Themen sind die Entwicklungen auf dem Arbeitsmarkt, die Aus- und Weiterbildung Technischer Redakteure sowie weitere aktuelle Fragestellungen. tekom-Mitglieder können die Studie kostenlos in abrufen.
About the book
Die tekom-Frühjahrsumfrage 2019 zu den branchenübergreifenden Kennzahlen für die Technische Kommunikation setzt sich zum Ziel, branchenrelevante Kennzahlen zu maßgeblichen strukturellen Indikatoren des Berufsfelds zu ermitteln.
Ermittelt wurden folgende Kennzahlen:
Anzahl der in der Technischen Kommunikation Beschäftigten in Deutschland
Anzahl der Mitarbeiter für Technische Kommunikation in den Unternehmen
Entwicklung der Mitarbeiterzahlen für die Technischen Dokumentation in den Unternehmen
Arbeitskräftebedarf
Outsourcing-Grad in der Technischen Kommunikation
Formale Qualifikation und Weiterbildung
Fachliche Hintergründe der Beschäftigten in der Technischen Kommunikation
Zufriedenheit mit der Beschäftigung in der Technischen Kommunikation
Dienstleistungen in der Technischen Kommunikation
Die Erhebung erfolgte durch eine Online-Umfrage im Frühjahr 2019 unter tekom-Mitgliedern und tekom-Interessenten. Die Umfrage zu den branchenübergreifenden Kennzahlen wurde an Mitglieder und Interessenten der tekom Deutschland versendet. Daher beziehen sich die hier vorgestellten Ergebnisse ausschließlich auf den deutschen Wirtschaftsraum. Da die Teilnehmerzahlen aus dem europäischen Ausland und international noch sehr gering sind und auch die Vergleichbarkeit zwischen den Staaten nicht gewährleistet werden kann, erfolgte kein internationaler Versand an die Landesgesellschaften der tekom Europe.
Insgesamt beteiligten sich 1.062 Personen. Ausgewertet wurden für die Ermittlung der branchenübergreifenden Kennzahlen mit Bezug zu Fragen Unternehmen betreffend alle Angaben von Beschäftigten in der Technischen Kommunikation aus Industrie-, Software-, Dienstleistungs- oder sonstigen Unternehmen in Deutschland.