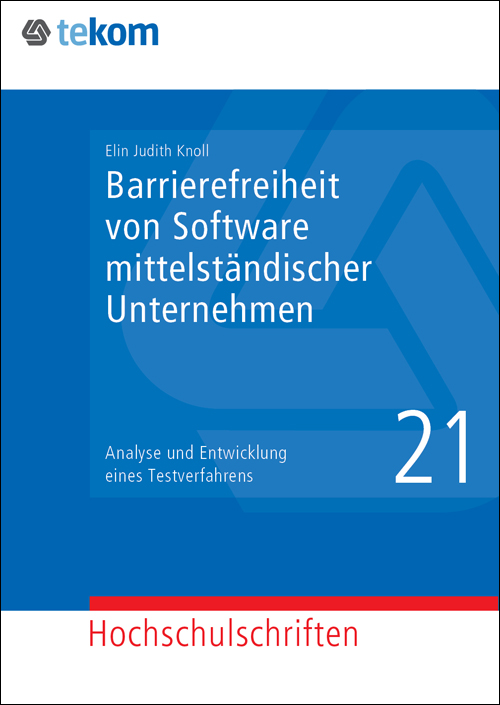 Bibliographic Information
17 x 24 cm, 182 Pages, 1. Auflage 2014
ISBN 978-3-944449-33-3 (Softcover)

PDF, 182 Pages, 1. Auflage 2014
ISBN 978-3-944449-76-0 (E-Book PDF)

Author(s): Knoll
Publisher: Jörg Hennig, Marita Tjarks-Sobhani
Publishing Company: tcworld GmbH
Subjects:
Categories:
57,50 €(for Members 37,50 €)Softcover, 182 Pages Delivery time: 7-10 working days. Due to the current Corona situation, there may be production-related delivery delays. Status: Available
42,50 €(for Members 27,50 €)E-Book PDF, 182 Pages Delivery time: 2-3 working days Status: Available
78,75 €(for Members 51,25 €)Bundle Softcover & E-Book PDF
Short Description
In der Publikationsreihe "tekom-Hochschulschriften" ist der 21. Band veröffentlicht: die Masterthesis "Barrierefreiheit von Software mittelständischer Unternehmen" von Elin Judith Knoll. Die Arbeit verdeutlicht, welche Kriterien und Testvoraussetzungen erfüllt sein müssen, damit ein Unternehmen seine Software komplett als "barrierefrei" bezeichnen kann.
About the book
Softwareprogramme sind heute fester Bestandteil unseres Arbeitsalltags. Wie selbstverständlich nutzen wir dabei auch die Möglichkeiten barrierefreier Information und Informationstechnik – oft ohne dass wir uns dessen überhaupt bewusst sind.
Doch welche Kriterien müssen erfüllt sein, damit Unternehmen ihre Software als "barrierefrei" bezeichnen und entsprechend auf dem Markt positionieren können? Welche Anforderungen werden an ein Testverfahren gestellt, damit insbesondere mittelständische Unternehmen ihre (Bestands-)Software selbstständig testen und bewerten können? Müssen rechtliche Rahmenbedingungen beachtet werden?
Diese Fragen sollen im Rahmen der vorliegenden Arbeit beantwortet werden. Hierzu werden die Stärken und Schwächen bestehender Prüfdokumente analysiert sowie ihre Eignung als Testverfahren bewertet. Basierend auf den hierdurch gewonnenen Erkenntnissen wird ein neues Testverfahren entwickelt. Dieses wird abschließend zur praktischen Evaluation mittels einer Eigen- und einer Fremdanalyse zur Bewertung der Barrierefreiheit zweier Softwareprogramme angewandt.