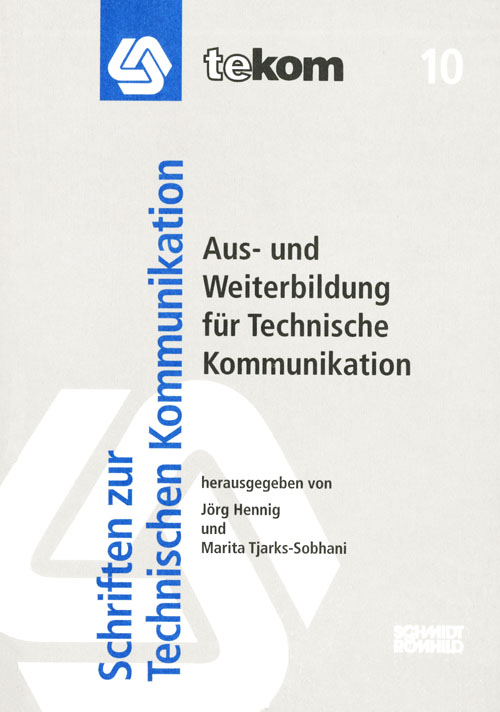 Bibliographic Information
14,8 x 21 cm, 166 Pages, 1. Auflage 2005
ISBN 978-3-944449-22-7 (Softcover)

Aus- und Weiterbildung für Technische Kommunikation
Author(s): Baumert, Closs, Fritz, Grünwied, Hennig, Horn, Hulitschke, Risku, Tjarks-Sobhani, Tutschner, Weber
Publisher: Jörg Hennig, Marita Tjarks-Sobhani
Publishing Company: Verlag Schmidt-Römhild
Subjects:
Categories:
37,50 € (for Members 25,00 €) Softcover, 166 Pages Delivery time: Sold out Status: Sold out
Short Description
In der Publikationsreihe "Schriften zur Technischen Kommunikation" hat die tekom den 10. Band veröffentlicht: "Aus- und Weiterbildung für Technische Kommunikation". Elf Beiträge von ausgewiesene Experten aus der Bildungsverwaltung, von Hochschulen und freien Bildungsträgern geben in diesem Band einen umfassenden Überblick über die Geschichte, den Stand und die Perspektiven der Aus- und Weiterbildung für die Technische Kommunikation bis zum Jahr 2005 und dokumentieren damit eine wichtige Professionalisierungsetappe dieses Berufsfelds.
About the book
Auch in der Technischen Kommunikation hängt die Qualität der Produkte von den Möglichkeiten der Menschen ab, die sie erstellen. Die bestmögliche Qualifizierung für alle, die auf diesem Feld tätig sind, ist dabei die wichtigste Voraussetzung.
Im Jahr 1990 nahm die Bedeutung der Technischen Kommunikation in den Unternehmen zu. Im Januar diesen Jahres trat das deutsche Produkthaftungsgesetz in Kraft. Damit wurden erstmals Instruktionspflichten und Instruktionshaftung für Unternehmen gesetzlich verankert: Fehlerhafte, unvollständige oder vom Leistungsumfang des Produkts abweichende Darstellungen können seitdem zu Haftungsansprüchen führen. Ferner müssen Anwender vor Gefahren gewarnt werden, die vom Produkt ausgehen können und nicht vermeidbar sind.
Diese gesetzliche Regelung führte dazu, dass in vielen Unternehmen die Technische Kommunikation und deren Erstellungsprozesse kritisch analysiert und neu konzipiert wurden. Es wurde offensichtlich, dass nicht ausreichend für diese Tätigkeit qualifizierte Personen ein erhebliches Risikopotenzial für die Unternehmen darstellen können: Fehlende oder unprofessionell formulierte Informationen konnten gefährlich, imageschädigend und mit den nun rechtlich festgelegten Konsequenzen teuer werden. Konsequent stieg daher die Nachfrage nach qualifiziertem Fachpersonal für die Erstellung multilingualer Technischer Kommunikationsinhalte.
Die tekom war für die steigende Nachfrage nach Technischen Redakteuren gerüstet, denn die Grundlagen zur Aus- und Weiterbildung von Technischen Redakteuren waren gelegt: beispielsweise durch ein von der tekom entwickeltes Rahmencurriculum, das Hochschulen und privaten Bildungsträgern eine Hilfe sein sollte, qualifiziertes Fachpersonal zum Erstellen Technischer Kommunikationsinhalte auszubilden, durch Kriterienkataloge zur Beurteilung von Bildungsträgern und durch ein Zertifizierungskonzept.
Der vorliegende Band versucht die gegenwärtige Aus- und Weiterbildungssituation zu dokumentieren und bezieht sich – aus unterschiedlichen Perspektiven – ausschließlich auf die Situation in Deutschland im Jahr 2005. Erste Einblicke in die Verhältnisse in 16 anderen Ländern bietet der Sammelband "Technische Kommunikation – international. Stand und Perspektiven" aus dem Jahr 2004, der auch in englischer Fassung vorliegt ("Technical Communication – international. Today and in the Future"). Gleichzeitig zeigt der Band zahlreiche Möglichkeiten für eine qualitative Weiterentwicklung des Berufsfelds auf, die sich auch für die Planung von persönlichen und betrieblichen Qualifizierungswegen in die Technische Kommunikation nutzen lassen.