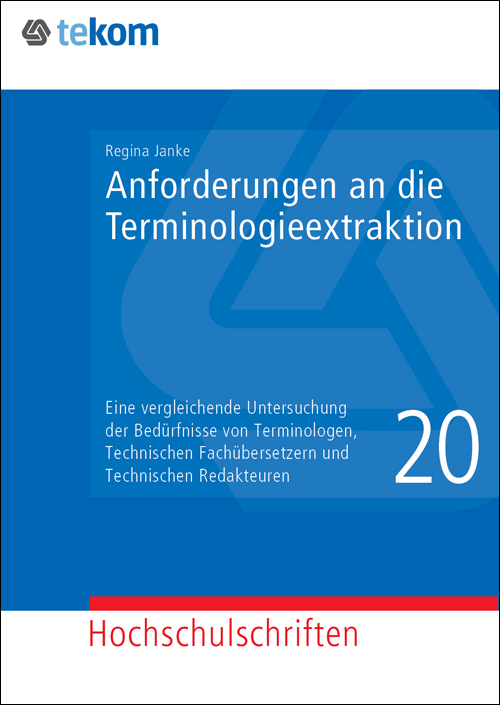 Bibliographic Information
17 x 24 cm, 145 Pages, 1. Auflage 2013
ISBN 978-3-944449-32-6 (Softcover)

PDF, 145 Pages, 1. Auflage 2013
ISBN 978-3-96393-031-7 (E-Book PDF)

Author(s): Janke
Publisher: Jörg Hennig, Marita Tjarks-Sobhani
Publishing Company: tcworld GmbH
Subjects:
Categories:
45,00 €(for Members 30,00 €)Softcover, 145 Pages Delivery time: 7-10 working days. Due to the current Corona situation, there may be production-related delivery delays. Status: Available
30,00 €(for Members 20,00 €)E-Book PDF, 145 Pages Delivery time: 2-3 working days Status: Available
60,00 €(for Members 40,00 €)Bundle Softcover & E-Book PDF
Short Description
In der Publikationsreihe "tekom-Hochschulschriften" ist der 20. Band erschienen: die Masterthesis "Anforderungen an die Terminologieextraktion" von Regina Janke. Die Erkenntnisse dieser Arbeit verdeutlichen den Nutzen und die Optimierungspotenziale systematischer Terminologiearbeit in Unternehmen.
About the book
Um den Erfolg der Terminologiearbeit und des Terminologiemanagements zu sichern, ist es wichtig, dass alle Terminologienutzer die gesuchten Begriffe in einer Terminologiedatenbank finden.
In der Praxis sind es oft die Terminologen, die Termini manuell oder automatisch extrahieren. Technische Redakteure und Übersetzer finden demnach nur die terminologischen Einträge in einer Datenbank, die von den Terminologen als wichtig empfunden werden. Doch werden diese Einträge den Bedürfnissen der Nutzer gerecht?
Diese Frage wird in der vorliegenden Arbeit beantwortet und die Terminologiearbeit theoretisch und praktisch betrachtet. In einer Umfrage extrahieren Studierende Termkandidaten aus Fachtexten. Diese Listen werden anschließend zwischen den drei Zielgruppen und mit automatisch generierten Listen verglichen. Die Ergebnisse liefern Erkenntnisse über die Erwartungen der Terminologienutzer. Die Umsetzung dieser Erkenntnisse kann zur Optimierung der Terminologiearbeit und zur damit einhergehenden Akzeptanz der Terminologie im gesamten Unternehmen beitragen.