Better than the yellow pages
Are you looking for a company in your region that can support you in the field of technical communication? Here you will find the specialists for your business.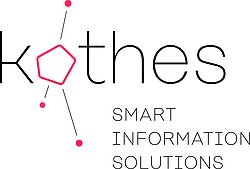 kothes GmbH
Von-Ketteler-Str. 19
47906 Kempen
Germany
Company details
Contact person

Manuel Welter

E-Mail-Address

Telephone

+49 2152 89 42 - 0

Fax

+49 2152 89 42 - 10

Website

Spoken languages

German

Number of employees

140
Services/Portfolio
Branch

Creating technical documentation (authoring, graphic design, composition, layout)

Certificate(s)

ISO 9001, ISO 17100, ISO 18587, TISAX
Descriptions/Features
Bei der Entwicklung von Produkten, Software und Dienstleistungen entstehen Informationen, die für die Nutzer relevant sind. Diese existieren in unterschiedlichen Systemen, häufig aber nur in den Köpfen der Entwickler.
Wir recherchieren, bereiten die Informationen auf und stellen Sie den Nutzern so bereit, dass sie optimal bei der Erledigung ihrer Aufgaben unterstützt werden.
Egal, ob Technische Dokumentation (wie z. B. Betriebsanleitung, Serviceinformation), E-Learning, umfassendes Informationsportal oder andere Arten der Nutzerinformation: Wir beraten, bauen IT-Landschaften auf, trainieren, erstellen Inhalte und übersetzen diese – im Rahmen einzelner Dienstleistungen oder individueller Business Process Outsourcings.
Services and support
kothes ist Ihr Partner für alle Bereiche der Technischen Dokumentation
Von der Entstehung bis zur Nutzung: Unsere Leistungen rund um den Information Life Cycle
Bevor eine Information den Nutzer erreicht, durchläuft sie viele Stationen und Prozesse. Akteure aus den verschiedensten Bereichen von der Entwicklung bis zur Produktion sind daran beteiligt. Diese verschiedenen Inputs zu koordinieren, aufzuarbeiten und nutzeroptimiert auszugeben, erfordert einen guten Überblick, gute Vernetzung und hohe Sachkenntnis.
Wir beraten und unterstützen Sie in allen Bereichen der Technischen Dokumentation und entwickeln gemeinsam mit Ihnen individuelle Informationskonzepte für schlanke Prozesse und nutzerorientierte Endprodukte mit Mehrwert.
Beratung
Wir beraten Sie in allen Bereichen des Informationslebenszyklus und stehen Ihnen als Sparringspartner bei allen Fragen zur Verfügung. Gemeinsam mit Ihnen erstellen wir individuelle Konzepte, abgestimmt auf die Bedingungen und Anforderungen Ihres Unternehmens.
Dienstleistungen
Ob Redaktion, Übersetzung, Terminologiemanagement, Produktsicherheit oder Visualisierung: Als zuverlässiger Dienstleister übernehmen wir Aufgaben aus allen Bereichen der Technischen Dokumentation für Sie.
Outsourcing
Bei unserem Team ist Ihr Produkt in guten Händen: Beim "Business Process Outsourcing" übergeben Sie komplette, zuvor klar definierte Prozessabläufe an uns. Wir optimieren diese Prozesse und kümmern uns um reibungslose Abläufe, permanente Qualitätssicherung und hochwertige Ergebnisse.
Training
Wir schulen Ihre Mitarbeiter rund um alle Themen des Information Life Cycle im Rahmen von individuellen Inhouse-Seminaren, speziell abgestimmt auf die Anforderungen Ihres Unternehmens.