Better than the yellow pages
Are you looking for a company in your region that can support you in the field of technical communication? Here you will find the specialists for your business.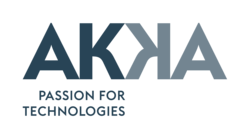 AKKA GmbH & Co. KGaA
Salierstr. 36
70736 Fellbach
Germany
Company details
Contact person

Marcus Zoller

E-Mail-Address

Telephone

015174630705

Website

Number of employees

20000
Services/Portfolio
Branch

Suppliers to the automobile industry

Certificate(s)

Tisax, DIN 27001, VDA 6.3
Descriptions/Features
Mit deutschlandweit ca. 5000 Mitarbeitern ist AKKA einer der größten Engineering-Partner der Hersteller. Die Technische Dokumentation ist an allen Standorten und Niederlassungen in Deutschland integriert, eine flexible und geografisch ungebundene Bearbeitung ihrer Projekte ist jederzeit möglich.
Branchen: AKKA ist in vielen Bereichen ein kompetenter und zuverlässiger Partner. unsere Hauptkunden kommen aus den Bereichen Automotive, Maschinen- und Sondermaschinenbau, IT und Elektronik, Luft- und Raumfahrt und deren Zulieferer.
Services and support
Portfolio Dokumentation:
Branchenübergreifende Erstellung von Reparaturanleitungen, Fehlersuchanleitungen, Funktionsbeschreibungen, Schulungsunterlagen, Trainings Hand-outs, Anleitungen für Sondereinbauten, Technische Informationen
Portfolio Grafik:
Erstellung und Produktion von CAD-basierten Funktionsvideos und Animationen, Schulungsfilme, Reparaturfilme, Technische Illustrationen, Fotodokumentationen