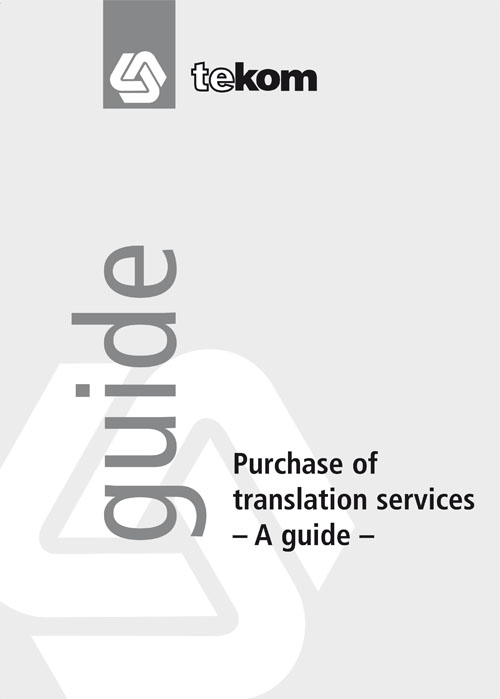 Bibliographic Information
DIN A4, 24 Pages, 1. Edition (translated from the German ed. 2012) 2012
ISBN 978-3-9814055-6-9 (Softcover)

PDF, 24 Pages, 1. Edition (translated from the German ed. 2012) 2012
ISBN 978-3-9814055-6-9 (E-Book PDF)

Purchase of translation services
Author(s): Kraus, Schmitz, Wallberg
Subjects:
Categories:
40,00 € (for Members 25,00 €) Softcover, 24 Pages Status: Available
30,00 € (for Members 20,00 €) E-Book PDF, 24 Pages Delivery time: 2-3 working days Status: Available
55,00 € (for Members 35,00 €) Bundle Softcover & E-Book PDF
Short Description
This guide is for all those active in the industry, including organizations and agencies, who need assistance with the decision-making process necessary in purchasing translation services. With this concise but comprehensive guide, master the basic process flow of translation projects, selecting translation service providers, and specifying and executing translation orders.
About the book
The German Product Liability Act (Produkthaftungsgesetz) stipulates the intelligibility of product information in terms of language and contents as a condition for a faultless product. The European Machinery Directive extends the scope of this regulation to multiple languages whenever products are sold within the European Union. The international standard IEC 82079-1 (2012) not only governs the requirements for the documentation of instructions for use and their writers, but also the general requirements for product information made available in different languages.
According to a study carried out on behalf of the Directorate-General for Translation of the European Union, translation volume is expected to increase by 10% over the next few years (European Commission 2009, p. iii). As per this estimate, the translation volume in the member states would amount to €16.5 billion in the year 2015. However, almost half of the total number of language service providers who also operate internationally are based in Europe. This, along with the growing significance of foreign markets for the European industries and statutory regulations like the Product Liability Act, the European Machinery Directive and the new IEC 82079-1 (2012), emphasizes the need for a "purchase guide" for translation services.
---