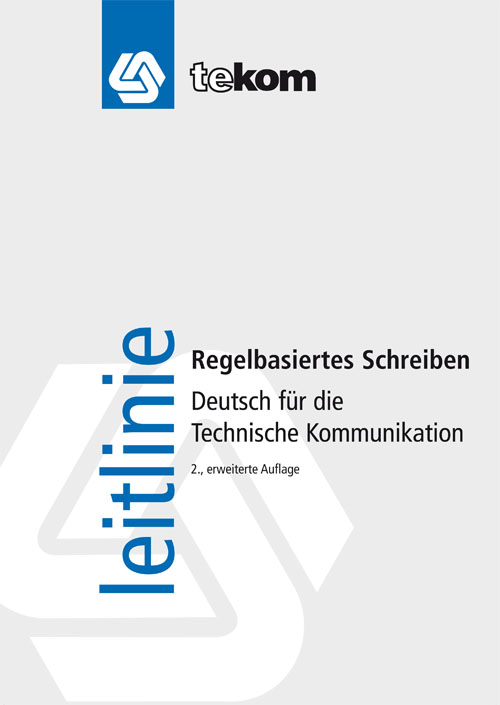 Bibliographic Information
DIN A4, 168 Pages, 2., erweiterte Auflage 2013
ISBN 978-3-9814055-9-0 (Softcover)

PDF, 168 Pages, 2., erweiterte Auflage 2013
ISBN 978-3-9814055-9-0 (E-Book PDF)

Author(s): Bellem, Dreikorn, Fleury, Haldimann, Klemm, Kurrus, Prusseit, Reuther, Schmeling, Sütterlin, von der Stück
Subjects:
Categories:
Keywords:
100,00 €(for Members 65,00 €)Softcover, 168 Pages Delivery time: 7-10 working days. Due to the current Corona situation, there may be production-related delivery delays. Status: Available
85,00 €(for Members 55,00 €)E-Book PDF, 168 Pages Delivery time: 2-3 working days Status: Available
142,50 €(for Members 92,50 €)Bundle Softcover & E-Book PDF
Short Description
Die Praxisleitfaden "Regelbasiertes Schreiben" wendet sich an Redaktionsverantwortliche und Informationsentwickler, die die textliche Qualität und Konsistenz ihrer Technischen Kommunikation sichern und ausbauen wollen. Auch für kleinere Redaktionen und für Gelegenheitsschreiber bietet der Leitfaden bewährte Standards für die Formulierung von Texten und detaillierte Anwendungsszenarien.
About the book
Zwei Forderungen stehen stets im Mittelpunkt der Erstellung Technischer Dokumentation: Eine hohe Wiederverwendung der Texte in den marktspezifischen ausgangssprachlichen Informationsprodukten und eine kosteneffiziente und schnelle Übersetzung in die erforderlichen Zielsprachen. Beiden Forderungen begegnet der tekom-Praxisleitfaden mit dem Ansatz: Standardisierung der Textproduktion sowie geeignete Regeln für konsistente und übersetzungsgerechte Texte.
Für die zweite Auflage ist der Leitfaden gründlich überarbeitet und wesentlich erweitert worden. Neu hinzugekommen sind vier wichtige Themenkomplexe: Rechtschreibung, Zeichensetzung, platzsparendes Schreiben und übersetzungsgerechtes Schreiben. Weiterhin wurden die bisherigen Text-, Satz- und Wortregeln überarbeitet und deutlich erweitert.
Gute Gründe für den Praxisleitfaden:
Sie möchten die Textqualität erhöhen und suchen nach verbindlichen, allgemein akzeptierten Schreibregeln.
Sie arbeiten bereits mit Schreibregeln, suchen aber nach Anregungen für weitere Regeln und Informationen zur Verbesserung bestehender Regeln.
Sie möchten übersetzungsgerecht schreiben.
Sie möchten auf kleinem Raum oder platzsparend schreiben.
Sie planen den Einsatz eines Sprachprüfwerkzeugs oder sind gerade in der Einführungsphase.
Sie möchten von Grund auf einen schreibtechnischen Standard für Ihre Technische Kommunikation entwickeln.
Sie wollen Erfolgsfaktoren bei der Einführung einer kennzahlenbasierten Qualitätsmessung definieren.
Bestimmte Qualitätskriterien stehen für Sie im Vordergrund.
Sie haben keinen vollständigen Redaktionsleitfaden oder schreiben nur gelegentlich und Sie wollen Ihre redaktionelle Kompetenz verbessern.