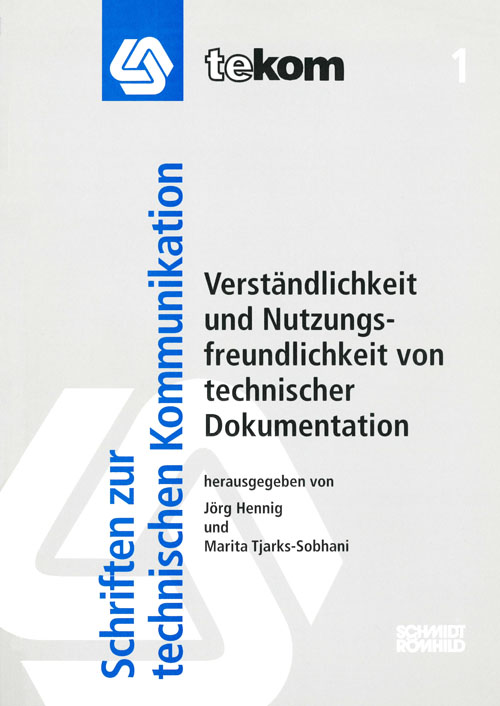 Bibliographic Information
14,8 x 21 cm, 178 Pages, 1. Auflage 1999
ISBN 978-3-944449-14-2 (Softcover)

Author(s): Ballstaedt, Bosse, Gorbach, Knapheide, Krömker, Langer, Lehrndorfer, Mihm, Noack, Pogarell, Rothkegel , Stadtfeld, Weidenmann
Publisher: Jörg Hennig, Marita Tjarks-Sobhani
Publishing Company: Verlag Schmidt-Römhild
Subjects:

Language
Information Development
Categories:
42,50 €(for Members 27,50 €)Softcover, 178 Pages Delivery time: 7-10 working days. Due to the current Corona situation, there may be production-related delivery delays. Status: Available
Short Description
In der Publikationsreihe "Schriften zur Technischen Kommunikation" hat die tekom den 1. Band 1999 veröffentlicht: "Verständlichkeit und Nutzungsfreundlichkeit von Technischer Dokumentation". In diesem Sammelband werden in zwölf Beiträgen von ausgewiesenen Experten aus Wissenschaft und beruflicher Praxis die wichtigsten Themen zur optimalen Nutzung des Geräts oder der Software für die Nutzer beschrieben. Sie bieten eine Bilanz der bisherigen Forschungen und leiten daraus Anregungen und Hinweise für das Erstellen von Technischer Dokumentation ab.
About the book
Ausgerechnet mit einem der ältesten und am längsten in den Kreisen der Technischen Kommunikation diskutierten Thema beginnt die neue Schriftenreihe der tekom. Wird nicht die aktuelle Diskussion von ganz anderen Themen beherrscht? Dokumenten- und Informationsmanagement, Datenbankanbindung und Online-Medien, Informationsmodellierung und Document Engineering, das sind nur einige der Schlagwörter, die offenbar im Mittelpunkt des Interesses stehen, wenn man den Vortrags- und Workshop-Ankündigungen der letzten großen tekom-Tagung glauben darf. HTML, XML und SGML scheinen die zur Zeit wichtigsten Abkürzungen für Technische Redakteure zu sein.
Mit all diesen Fachwörtern sind primär technische Aspekte für die Erstellung von Technischer Dokumentation angesprochen. Die genannten Verfahren und Programme sind nicht nur nützlich, sondern oft auch notwendig, weil sie die Arbeit erleichtern, sie schneller und vor allem wirtschaftlicher machen. Das Ziel aber bleibt, den Nutzern die optimale Nutzung des Geräts oder der Software zu ermöglichen. Dafür muss die Dokumentation verständlich und nutzungsfreundlich sein.
Man könnte den Eindruck gewinnen, dass zumindest in der öffentlichen Diskussion dieser Gesichtspunkt in der letzten Zeit etwas aus dem Blick geraten ist. Wenn die Thematik des vorliegenden Sammelbands also in dieser Hinsicht von den Lesern als ein notwendiger Kontrast zu der rein technisch geführten Diskussion empfunden wird, dann fühlen sich die Herausgeber richtig verstanden. Der Konzeption des Bands lag das Bemühen um eine möglichst weitgehende Erfassung des Themenspektrums "Verständlichkeit und Nutzungsfreundlichkeit" zu Grunde.