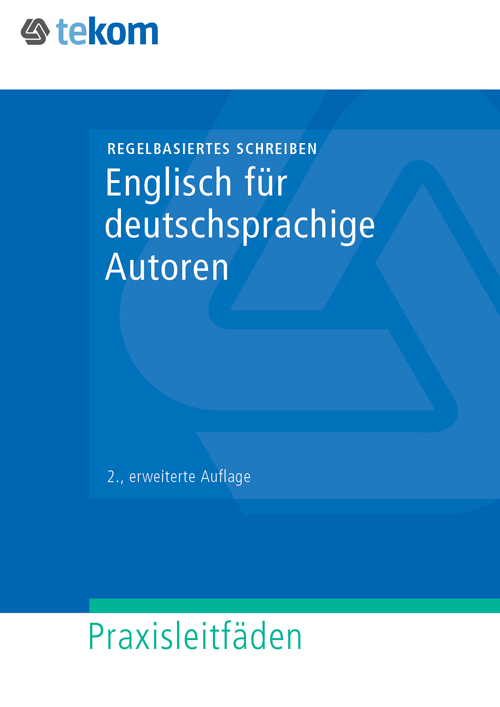 Bibliographic Information
DIN A4, 194 Pages, 2., erweiterte Auflage 2017
ISBN 978-3-944449-52-4 (Softcover)

DIN A4, 194 Pages, 2., erweiterte Auflage 2017
ISBN 978-3-944449-64-7 (E-Book PDF)

Author(s): Erdmann, Fleury, Nickl, Johnson Coenen, Link, Longbotham, Reuther, Schöffer, Siegel
Publishing Company: tcworld GmbH
Subjects:
Categories:
Keywords:
Extract:
100,00 €(for Members 65,00 €)Softcover, 194 Pages Delivery time: 7-10 working days. Due to the current Corona situation, there may be production-related delivery delays. Status: Available
85,00 €(for Members 55,00 €)E-Book PDF, 194 Pages Delivery time: 2-3 working days Status: Available
142,50 €(for Members 92,50 €)Bundle Softcover & E-Book PDF
Short Description
Der Praxisleitfaden vereint die wichtigsten Standardisierungsregeln zum Verfassen von englischen Texten auf Text-, Satz- und Wortebene. Er ist eine Hilfestellung, die speziell auf die Bedürfnisse deutschsprachiger Autoren für die Texterstellung in englischer Sprache eingeht.
About the book
Die zweite Auflage des Leitfadens wurde nach der Auswertung einer Nutzerumfrage und einer Abstimmung innerhalb der Arbeitsgruppe grundlegend überarbeitet. Die wichtigsten Regeln wurden präzisiert und viele neue sprachspezifische Regeln aufgenommen, die Themen und Regeln sind jetzt deutlicher hervorgehoben und die Auswahl an Regeln wurde für den Leser vereinfacht.
Weitere Neuerungen:
Neue Kapitel mit Regeln zur Verwechslungsgefahr, Ausdrucksweise (stilistische Regeln) und Zeichensetzung
Eine überarbeitete Gliederung
Eine Matrix, die die Regeln in verschiedenen Kategorien sortiert
Weiterführende Quellen in der Literaturliste
Dabei verfolgt der Praxisleitfaden drei Hauptziele:
Er liefert deutschsprachigen Autoren eine Anleitung zur Einführung von regelbasiertem Schreiben.
Er bietet einen Katalog an Regeln, woraus Autoren ihr unternehmensspezifisches Regelwerk für englischsprachige Technische Kommunikation entwickeln können.
Er unterstützt deutschsprachige Autoren, die besonderen Schwierigkeiten der englischen Sprache zu überwinden.