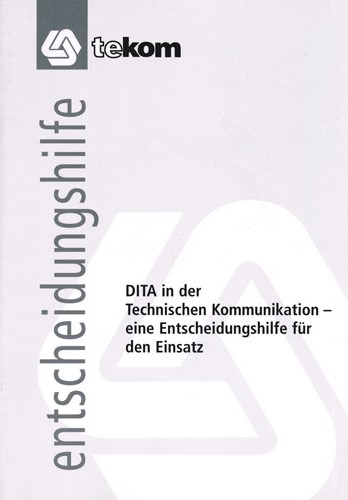 Bibliographic Information
DIN A4, 63 Pages, 1. Auflage inkl. CD-ROM 2008
ISBN 978-3-9814055-5-2 (Softcover)

Author(s): Becher, Closs, Fritz, Krüger, Rehsöft, Ziegler
Subjects:
Categories:
Keywords:
55,00 €(for Members 35,00 €)Softcover, 63 Pages Delivery time: 7-10 working days. Due to the current Corona situation, there may be production-related delivery delays. Status: Available
Short Description
Der offene Industriestandard DITA (Darwin Information Type Architecture) ist eines der gefragtesten und meistdiskutierten Themen in der Informationsentwicklung der letzten Jahre. Ziel dieser Publikation ist es, Technische Redakteure und Entscheider vor und bei der DITA-Einführung fachlich zu unterstützen.
About the book
Trotz einer Fülle an Veranstaltungen zu DITA und Berichten über erfolgreiche Praxisbeispiele herrscht immer noch viel Unklarheit über Vorteile, Anwendbarkeit und Grenzen von DITA. Die Entscheidungshilfe bietet objektive Informationen für:
Fach- und Führungskräfte in der Technischen Kommunikation, die sich für die Einführung von DITA interessieren oder vor der Einführung stehen, sowie
alle Interessierten, die Aufwand und Nutzen der Einführung von DITA realistisch einschätzen möchten.
Eine pauschale Empfehlung für oder gegen DITA kann es nicht geben. Die Entscheidungsfindung hängt immer von den unternehmensspezifischen Gegebenheiten ab und muss den Verantwortlichen sorgfältig durchdacht, vorbereitet und umgesetzt werden.
Damit Sie sich klar orientieren können, haben Experten der tekom eine praktische Entscheidungshilfe erarbeitet. Neben grundsätzlichen Informationen zu DITA bietet diese Publikation ein Entscheidungssystem von Leitfragen, die individuell beantwortet werden sollten, bevor eine Entscheidung für DITA oder eine andere Anwendung fällt.
Übersicht über die wichtigsten Grundlagen:
Die Konzepte der DITA-Architektur
Einführung in das DITA Open Toolkit
Einführung in die Spezialisierung
Leitfragen zur Einführung von DITA:
Welche Vorteile bietet XML?
Was bedeutet topicorientiertes Arbeiten?
Kann ich DITA "von der Stange" anwenden?
Was ist mit dem DITA Open Toolkit möglich?
Benötige ich ein CMS?
Welche Schritte gehören zur Implementierung?
Welche Faktoren bestimmen die Kosten?
Wie hoch ist der potenzielle Nutzen?
Welche Tools unterstützen derzeit DITA?
Für einen Marktüberblick haben Systemanbieter außerdem Beschreibungen ihrer DITA-fähigen CMS beigesteuert.