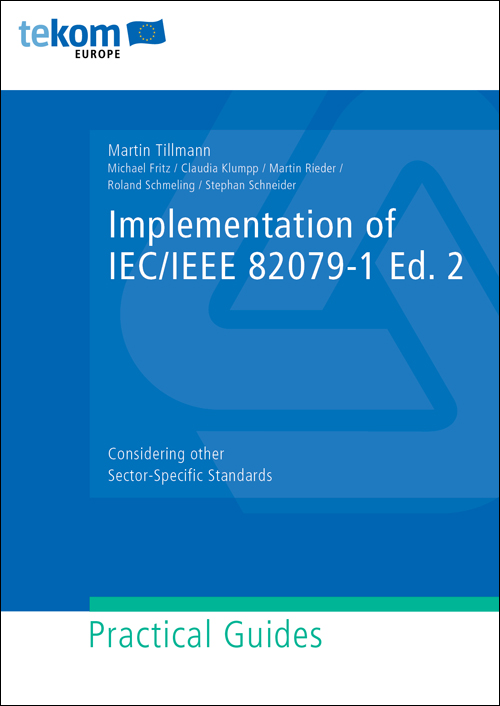 Bibliographic Information
DIN A 4, 200 Pages, 1. Edition (translated from German ed. 2020) including IEC/IEEE 82079-1 2020
ISBN 978-3-96393-004-1 (softcover with standard text)

PDF, 147 Pages, 1. Edition (translated from German ed. 2020) without IEC/IEEE 82079-1 2020
ISBN 978-3-96393-005-8 (ebook PDF without standard text)

Implementation of IEC/IEEE 82079-1 Ed. 2
Author(s): Tillmann, Fritz, Klumpp, Rieder, Schmeling, Schneider
Publishing Company: tcworld GmbH
Subjects:

Legal Requirements and Standards
Categories:
Keywords:

standards
82079-1
instruction for use
135,00 €(for Members 95,00 €)softcover with standard text, 200 Pages Delivery time: 7-10 working days. Due to the current Corona situation, there may be production-related delivery delays. Status: Available
85,00 €(for Members 55,00 €)ebook PDF without standard text, 147 Pages Delivery time: 2-3 working days Status: Available
Short Description
Die IEC/IEEE 82079-1 ist die wichtigste Norm für die Erstellung aller Arten von Nutzungsinformationen – von der Farbdose bis zur Industrieanlage. Der neue Praxisleitfaden erläutert praxisnah die zentralen Anforderungen der grundlegend überarbeiteten Norm. Er enthält zudem alle wichtigen Neuerungen sowie in der Printversion den englischsprachigen Text der Norm.
About the book
IEC/IEEE 82079-1 is of excelling importance for the field of technical communication. Since its publication in 2012, it defines the general principles and requirements for instructions for use in all industry branches.
In a five-year effort the standard has been substantially revised by an international work group formed by 21 experts from nine countries.
This implementation guide focuses on the practical application of the standard and in this effort largely follows the improved
structure of the standard: All chapters r eferring to specific requirements of the standard include a table presenting the "mandatory requirements" of the respective section. The following subchapters then discuss the requirements and their implementation, including practical e xamples.
The practical implementation guide thus is ideally suited to understanding the requirements set forth in the standard and their implementation. Thanks to its structure following that of the standard, it can also be used as a reference.