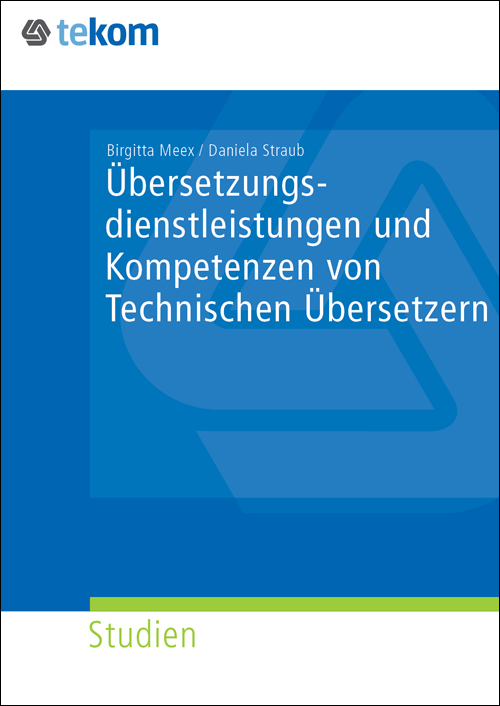 Bibliographic Information
DIN A4, 38 Pages, 1. Auflage 2018
ISBN 978-3-96393-011-9 (E-Book PDF)

DIN A4, 38 Pages, 1. Auflage 2018
ISBN 978-3-96393-010-2 (Softcover)

Author(s): Meex, Straub
Publishing Company: tcworld GmbH
Subjects:
Categories:
80,00 €(for Members 0,00 €)E-Book PDF, 38 Pages Delivery time: 2-3 working days Status: Not yet published
95,00 €(for Members 15,00 €)Softcover, 38 Pages Delivery time: 7-10 working days. Due to the current Corona situation, there may be production-related delivery delays. Status: Available
Short Description
Die tekom-Studie "Übersetzungsdienstleistungen und Kompetenzen von Technischen Übersetzern" gibt einen umfassenden Überblick über die wichtigsten Fragen rund um Übersetzungsdienstleistungen – von den Anforderungen an Übersetzungsdienstleister über Themen wie Kosten, Dauer und Qualität bis hin zu Kooperationsmodellen und Fragen zum Workflow. Sie bietet damit Orientierung in einem komplexen und unübersichtlichen Markt.
About the book
Der Übersetzungsbedarf in der Technischen Kommunikation sowie die Nachfrage nach Übersetzungsdienstleistungen sind hoch. Derzeit übersetzen fast die Hälfte der Unternehmen in mehr als 10 Sprachen. Dieser Übersetzungsumfang muss unter Berücksichtigung von Zeit, Ressourcen und Qualität professionell geleistet werden. Dies war der Anlass für die tekom, eine neue Studie über das Thema zu erstellen.
Folgende Fragestellungen wurden untersucht:
Nach welchen Kriterien werden Übersetzungsdienstleistungen ausgewählt und welchen Einfluss haben dabei die Fachabteilungen?
Welche Modelle an Übersetzungsdienstleistungen werden in Anspruch genommen und welche werden als ideal angesehen?
Welche Anforderungen werden an Übersetzungssysteme gestellt?
Welcher Anspruch wird an die Übersetzungsqualität bei der Vergabe von Übersetzungsdienstleistungen gestellt?
Wie ist die Wertigkeit von Qualität in Relation zur Zeitdauer und Kosten?
Wie hoch sind die zu vergebenden Übersetzungsumfänge und die Kosten für die Übersetzung?
Wie erfolgt die Kooperation mit den Übersetzern und welche Übersetzungsmethoden kommen zum Einsatz?
Welche Anbieter von Übersetzungsdienstleistungen werden eingesetzt und welche werden als ideal angesehen?
Welchen beruflichen Hintergrund bringen die eingesetzten Technischen Übersetzer mit und welcher wird als ideal angesehen?
Welche Kompetenzen sollten Technische Übersetzer idealerweise mitbringen?
Sie möchten mehr zu der Studie "Übersetzungsdienstleistungen und Kompetenzen von Technischen Übersetzern" wissen? Dann kontaktieren Sie gerne Natascha Pfeiffer.
Im Rahmen der jährlichen Branchenkennzahlen im Frühjahr 2018 wurde diese Online-Befragung unter tekom-Mitgliedern und Interessenten von tekom Deutschland durchgeführt. Die vollständige Studie ist für Teilnehmer der Umfrage und für tekom-Mitglieder kostenlos.