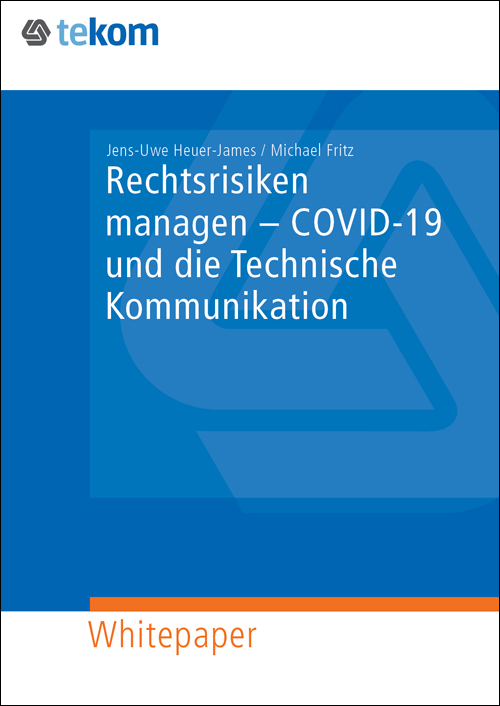 Bibliographic Information
PDF, 9 Pages, 1. Auflage 2020
ISBN 978-3-96393-046-1 (E-Book PDF)

Author(s): Heuer-James, Fritz
Publisher: Gesellschaft für Technische Kommunikation – tekom Deutschland e.V.
Publishing Company: tcworld GmbH
Subjects:

Legal Requirements and Standards
Categories:
35,00 €(for Members 0,00 €)E-Book PDF, 9 Pages Delivery time: 2-3 working days Status: Available
Short Description
Unsere digitalen tekom-White-Papers informieren topaktuell zu den neusten Themen und Trends und bringen Fachwissen gebündelt und übersichtlich auf den Punkt. tekom-Mitglieder können die Whitepapers kostenlos in 'meine tekom' abrufen.
About the book
Sowohl Hersteller als auch Kunde sind an die üblichen vertraglichen Verpflichtungen gebunden, eine Technische Dokumentation bereitzustellen bzw. abzunehmen.
Force Majeure oder Unmöglichkeit können in der Regel weder vom Hersteller noch vom Kunden geltend gemacht werden.
Bei durch die COVID-19-Pandemie bedingten Problemen hinsichtlich der Bereitstellung und Abnahme der Technischen Dokumentation sollte der Vertrag unter Berücksichtigung der Interessen beider Parteien der neuen Situation gemeinsam sachgerecht angepasst werden.
Entsprechende Vereinbarungen sollten dringend frühzeitig getroffen werden, bevor es zu rechtlichen Auseinandersetzungen kommen kann.
Der Bereitstellung der zu liefernden Dokumentation in elektronischer Form kommt hier besondere Bedeutung zu.