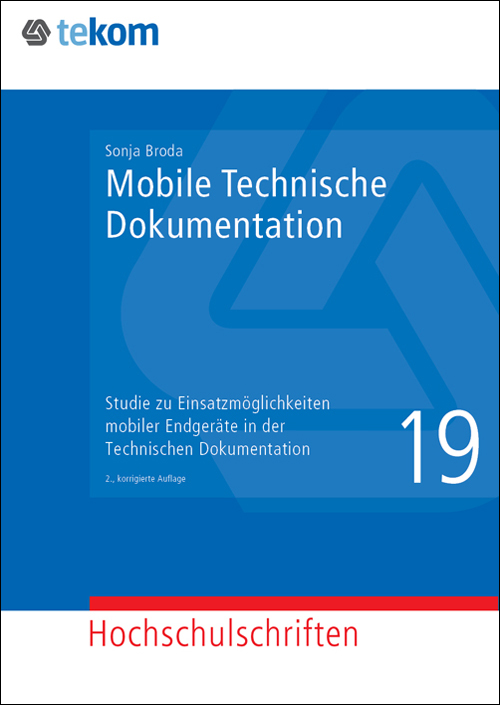 Bibliographic Information
17 x 24 cm, 166 Pages, 2., korrigierte Auflage 2016
ISBN 978-3-944449-41-8 (Softcover)

PDF, 166 Pages, 2., korrigierte Auflage 2016
ISBN 978-3-944449-75-3 (E-Book PDF)

Author(s): Broda
Publisher: Jörg Hennig, Marita Tjarks-Sobhani
Publishing Company: tcworld GmbH
Subjects:
Categories:
52,50 €(for Members 35,00 €)Softcover, 166 Pages Delivery time: 7-10 working days. Due to the current Corona situation, there may be production-related delivery delays. Status: Available
37,50 €(for Members 25,00 €)E-Book PDF, 166 Pages
71,25 €(for Members 47,50 €)Bundle Softcover & E-Book PDF
Short Description
In der Publikationsreihe "tekom-Hochschulschriften" ist der 19. Band veröffentlicht: die Masterthesis "Mobile Technische Dokumentation" von Sonja Broda. Die Arbeit informiert umfassend über Ziele, Nutzen und Mehrwerte von mobilen Endgeräten in der Technischen Kommunikation, außerdem über Technologien, Einsatzszenarien und Darstellungsformen.
About the book
Leistungsfähige mobile Endgeräte, besonders Smartphones und Tablet-PCs, sind Begleiter des mobilen Alltags. Ob Nachrichten, Börsenkurse, Online-Shopping, Technische Dokumentation – Information ist jederzeit und überall verfügbar. Von der individuellen Anleitung bis zu Augmented-Reality-Anwendungen bietet Mobile Dokumentation viele neue Möglichkeiten, Anwendern Informationen in die Hand zu geben.
Technische Dokumentation auf mobilen Geräten stellt jedoch auch besondere Anforderungen an den Technischen Redakteur. Rechtliche Vorgaben sind genauso zu berücksichtigen wie erstellungstechnische: Welcher Medien-Mix ist für mein Produkt geeignet? Welche Darstellungsweise soll ich wählen? Wie passe ich meine Dokumentation an unterschiedliche Ausgabegeräte und Plattformen an? Soll die Doku online oder offline verfügbar sein? Wie texte ich für die mobile Nutzungssituation?
Die vorliegende Arbeit gibt einen umfassenden Überblick über Nutzen, Grundlagen und Technologie, Darstellungsformen und Einsatzszenarien für mobile Endgeräte in der Technischen Dokumentation. Abgerundet wird die Untersuchung durch die Ergebnisse einer Online-Befragung bei Dokumentationsexperten und -dienstleistern.