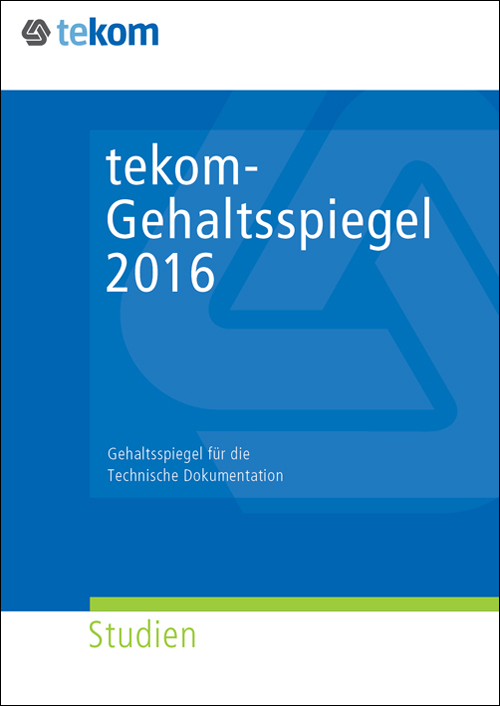 Bibliographic Information
DIN A4, 59 Pages, 1. Auflage 2017
ISBN 978-3-944449-67-8 (Softcover)

PDF, 59 Pages, 1. Auflage 2017
ISBN 978-3-944449-50-0 (E-Book PDF)

Author(s): Straub
Publishing Company: tcworld GmbH
Subjects:
Categories:
95,00 €(for Members 15,00 €)Softcover, 59 Pages Delivery time: 7-10 working days. Due to the current Corona situation, there may be production-related delivery delays. Status: Available
80,00 €(for Members 0,00 €)E-Book PDF, 59 Pages Delivery time: 2-3 working days Status: Available
135,00 €(for Members 15,00 €)Bundle Softcover & E-Book PDF
Short Description
Bereits zum vierten Mal hat die tekom eine Gehaltsstudie über die Zusammensetzung und das Niveau der Gehälter in der Technischen Dokumentation durchgeführt. Ziel des neuen Gehaltsspiegels ist, den Mitgliedern zuverlässige und aktuelle Informationen über die derzeitige Einkommenssituation von Technischen Redakteuren in Deutschland zur Verfügung zu stellen.
About the book
Wie gestaltet sich die Zusammensetzung der Gehälter in der Technischen Kommunikation 2016?
Der aktuelle Gehaltsspiegel sorgt für mehr Transparenz und ist eine Orientierungshilfe hinsichtlich des Einkommensniveaus von Angestellten verschiedener Positionen in Industrie und Dienstleistung. Die Resonanz bei dieser Gehaltsumfrage war erfreulich hoch. Insgesamt beteiligten sich 1.428 Beschäftigte aus der Technischen Kommunikation an der Umfrage. Dieses Ergebnis spricht für das große Interesse und den hohen Bedarf an einer Darstellung der Gehaltsstrukturen.
tekom-Mitglieder erhalten den "Gehaltsspiegel 2016" kostenlos als E-Book PDF im Mitgliederbereich auf der Downloads-Seite. Mehr Details dazu gibt es hier.