Program
The EAC took place as digital event on June 11 2021
The European Academic Colloquium (EAC) provides an international platform for you to present research on all topics related to technical communication and associated research areas.
Our theme for 2021
The pandemic has led to significant changes in professionals' work practices. They need to work from their home office, cooperating online with others. Many tasks are digitalized. These changes affect the field of technical communication in many ways, since communicating about digital and technical services is one of our core tasks.
Therefore, Digitalization in Technical Communication was a specific topic of interest of this year's colloquium.
The EAC is targeted at members of the European academic community who teach and carry out research in the area of technical communication and related fields, such as translation, multilingual communication, localization, terminology, or information management.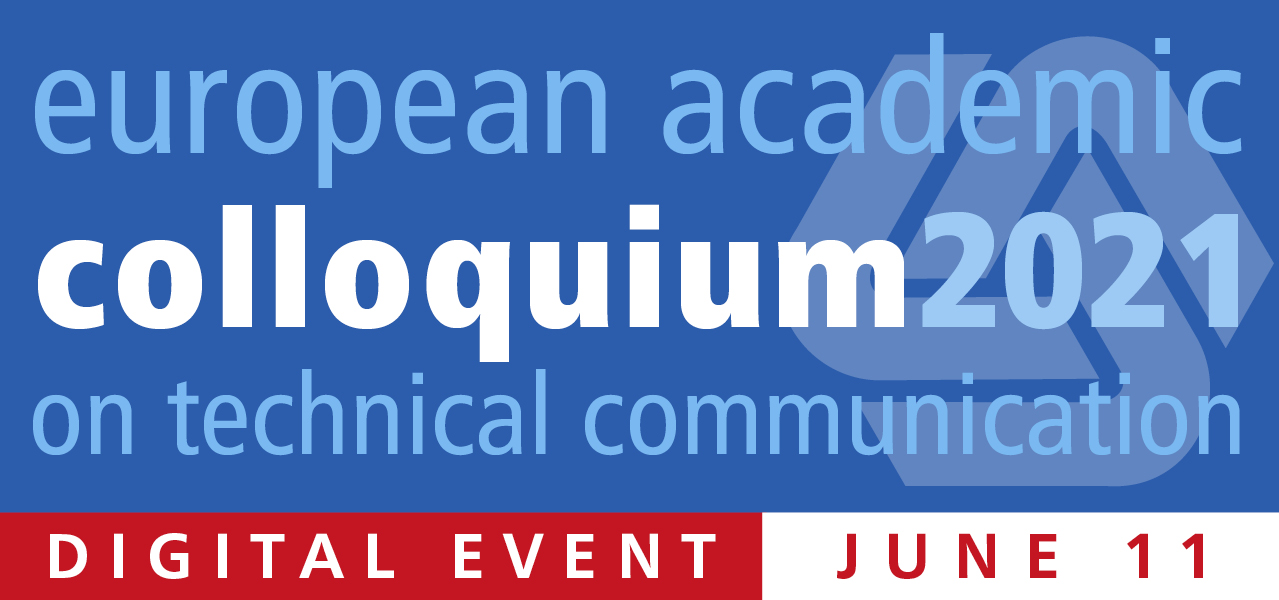 Get access to the EAC via Zoom
The Colloquium will be online via Zoom, beginning at 11.00 (Central European Summer Time).
The exciting programme includes presentations, meetups, and a keynote address by Professor Kirk St.Amant, entitled 'Dynamics of Design in Digital Domains: Approaches to Addressing the User Experience in Digital Contexts.' To join on the day, please click on this link:
We are very much looking forward to your participation on June 11th.
Best wishes,
Your EAC Board
Dr. Yvonne Cleary
Prof. Sissi Closs
Dr. Joyce Karreman
Prof. Dr. Birgitta Meex
Prof. Dr. Michael Meng
Program Overview
11 AM (MESZ): Welcome by the EAC Board
In the digital economy, where everything is a service, users expect technology to work for them, whether they are shopping, banking, or using enterprise software. The quality of the user experience (UX) is affected by everything users interact with in digital environments. User interface (UI) texts in particular are an important asset in the UX, and they operate on multiple levels. They guide the user through the application and provide access to all the content that users see when they interact with a device. They range from icons, buttons and page titles to menus and help texts. Moreover, UI texts can be seen as the locus where user experience and technical communication intersect. To ensure an excellent and robust digital user experience, UX designers consider a variety of visual design methods, including unity, Gestalt properties, space, hierarchy, balance, contrast, scale, dominance, and similarity. While it is generally acknowledged that UI design is focused on visual creation principles, many product owners, developers and UX professionals do not appreciate the crucial importance of language in user experience. The aim of this proposed presentation is exactly to shed light on this fundamental, but surprisingly often overlooked aspect: language.
Drawing on real-world examples, the following questions are addressed:
Which principles are shared by technical communication and usability engineering?
How does language affect interactions with items in UI environments?
To which extent are text production guidelines and methods that are commonly used in technical communication to craft good content transferable to UI texts?
When are linguistic design principles preferable to visual design principles?
While discussing these questions, the audience will be given new impulses about the language principles that work well in UI environments and that may be directly integrated into daily practice or may be further developed for research purposes.
There is an often-cited gap between technical communication practitioners and academics (see, for example, Andersen & Hackos, 2018). In many contexts, however, technical communication educators are aiming to provide a real-life perspective to technical communication as part of their curricula (Suojanen & Virtaluoto, 2016). This may come in the form of designing course contents together with experts from the industry, using real-life materials in course tasks, or doing a company project as the final assignment on a course, for example. In this presentation, I will describe how students negotiate the tasks involved in carrying out a company project on an advanced-level technical communication course online. Like many teaching situations in the past 12 months, this course can be labeled "emergency remote teaching": not a carefully planned online experience, but rather a response to a crisis situation. Through survey and study journal data gathered in the spring of 2021, I will investigate the students' experiences of remote teaching in general and hands-on project work in particular. The results will strengthen our understanding of the impact of ERT on learning and student wellbeing in a crisis, while providing further knowledge on how real-life tasks may be combined with academic goals in technical communication courses.
References
Andersen, R. & Hackos, J. (2018). Increasing the value and accessibility of academic research: Perspectives from industry. In Proceedings of the 36th ACM International Conference on the Design of Communication (SIGDOC '18), 5, 1–10. Association for Computing Machinery, New York, NY, USA.
Suojanen, T. & Virtaluoto, J. (2016). Technical communication programmes: Building competencies needed in the workplace. Proceedings of the European Academic Colloquium on Technical Communication 2016, 4, 97–110. European Association for Technical Communication – tekom Europe e.V.
Software has become part of our daily life. Apps, PC software for private use and professional software at work: there are many points of contact. Help for using software can often be found within the software itself. For this kind of software help, a new term has entered the game: UX writing, which is a type of context-sensitive help with the focus on user experience.
My bachelor thesis discussed whether UX writing can be done by technical writers and what UX writing means for technical editing. In summary, it can be concluded that UX writing and technical documentation have a lot in common with regard to the function of the respective text. In contrast to technical documentation, which is bound to a variety of guidelines and standardization methods, UX writing describes an open process with a lot of free space for the author. First and foremost, it depends only on the brand, the product, and the related target group. In many cases, UX writing is characterized by an informal and conversational language that is more commonplace than the language in technical documentation. The conversational language is mostly distinct in websites and software products with low complexity. It can also be found in professional and complex software but, in this case, it is characterized by its focus on efficient and effective product use. In addition, UX writing resembles marketing text and is an important part of the content strategy of a company. Calls to action and user motivation play a major role in the context of UX writing. UX writing also often deviates from the minimalism prescribed for technical documentation in DIN EN 82079-1. More context serves as assistance especially in error messages. Furthermore, due to its closeness to software, UX writing must be given great consideration when designing software.
There are also significant overlaps between the competences of UX writers and technical writers. Both need didactical competences and skills for professional writing. Taking the user's perspective is common to both professions. For UX writers, UX design and content strategy are also relevant areas.
To test the relevance of UX writing for technical documentation – based on the theoretical findings explained above – two software prototype variants were tested by users.
One variant contained text that applied the conventional style of technical documentation. The other variant contained text written according to UX writing rules. The users rated their user experience and the interface texts from each prototype variant. The surprising result: The "conventional" prototype got better ratings. The test showed how important it is to consider the specific context of use and to conceptualize the UX writing in detail to achieve a better user experience. Without professional designers and extensive UX research, UX writing does not provide any added value in general.
In conclusion, technical writers are capable of UX writing. For technical editing, the concept of UX writing, with its stronger focus on the target group, can be beneficial, representing a step towards more attractive, user-friendly technical communication.
12:45 PM (MEZ): Lunch break
Social media (Twitter 353 million, Instagram 1.22 billion, Facebook 2.74 billion, YouTube 2.29 billion, etc. monthly active users) attract and speak to unimaginably vast audience numbers globally (Statista, 2021). In an increasingly digital world, the reach of such platforms is undeniable yet, when it comes to academic institutions, there does not seem to be significant uptake or investment in the potential of creating impact through social media. Instead, what we often see are somewhat poorly managed accounts that produce content that is unengaging and lacking in consistency and purpose.
Case in point, 2020/21 has been a year of unprecedented challenges where improved connectivity is more important than ever. Currently, it is not enough to have the "knowledge" but, instead, it is vital to find correct channels to share that knowledge and make it more accessible to the wider community. Contrary to some beliefs, this is not a call for "dumbing down science" but on the contrary makes science more approachable, digestible and understandable, and thus more relevant.
A key obstacle in this is resistance from "management". This is often because engagement with social media on a professional level is not seen as "work". Is it because they just don't get it? Or because they themselves don't use it? Is it perhaps a sad case of the "Trump effect" that causes hesitancy and mistrust? Once upon a time, the same management may have felt similarly about Zoom or even email. But can we imagine our working lives without them nowadays? To tackle this, we need evidence, beginning with colleagues/peers/accounts that have advanced in their use of social media outreach. What worked for them and what did not? Why? How did they build connections between the (right) people and knowledge? This can then be used as evidence of impact but also as a blueprint to learn from strong profiles in avoiding the errors/pitfalls and maximizing the benefits/effects.
Institutions often worry, and rightly so, about content control and reputation management in using social media. Who will "own" the content? Who will moderate/register the account? Who will have access? What if the circumstances/team change? What will be the "style" of the output? These are just some of the questions to answer. The main point is to agree on the parameters from the outset. Social media output is work and thus should be viewed as such. Content should be "created" by someone (individual/team) who knows social media and can use it professionally (not just whoever is the youngest person on the team), someone who also cares about and understands the organizations/research and their reputation, someone who is familiar with the intricacies of the work/institution/project and how to leverage knowledge for its benefit. Agree on appropriate "style" for your content from images, output guidelines, and voice, to frequency and ownership, as well as an action plan in the event of any issues/problems. Reputation management is more than just brand management, and social media has leveled the playing field.
If used with purpose, social media platforms can offer many benefits to academic institutions including greater reach, collaborations and critical conversations.
As a follow-up to Benjamin's talk, we will discuss in detail which competences are necessary for UX writers and how we can train for them. This Meetup addresses everybody interested in the future development of TC.
Artificial Intelligence (AI) has large-scale ramifications for technical communication the more AI is interwoven into everyday processes. AI is used in email programs to auto-generate text responses to emails. Text messages are auto-corrected by AI. Streaming services push movie recommendations based on analysis of our viewing patterns by AI. Pharmacies use AI chatbots to send us text messages to remind us to refill our prescriptions. These show that technical communication and user experience (UX) design are now heavily influenced by the digitalization introduced by AI. In this, AI facilitates distributing content differently and more quickly, which can help develop new technical communication practices in pushing content to users in new ways.
Beside creating new expectations for how content is delivered/distributed to users, AI also creates new practices in developing content. A special issue of the Society for Technical Communication's Intercom magazine focused on AI in relation to content strategy. This issue focused on the importance of AI in technical communication by discussing how chatbots help automate processes and content strategy addresses users more effectively through AI analysis of content (cf. Earley, 2018; Illian, 2018). As AI moves humans to share agency with AI in post-human contexts, this requires that technical communicators do their work differently. Through AI-driven smart design systems, big data metrics programs, automatic A-B testing, intelligent writing systems, and content strategy systems, UX design has started to use AI to develop content for users more quickly (Texeira, 2017). Yet, technical communication as a field has not yet discussed these in depth.
As our field addresses digitalization, it must also address how new requirements exist for content by users. Content in technical communication is now modular, reusable, read by machines, and intelligent enough to work in smart contexts (Parson, 2018). For example, many of us don't think twice when our smart watch prompts us to exercise after a period of inactivity. Such approaches demonstrate that content is not only developed for single-task environments, but also for "smart contexts" where information is accessible anywhere and anytime, is context-aware, and can act for the user in addressing their immediate and specific needs.
This presentation will focus on developing changes of AI in developing agentive content for smart contexts in technical communication. As I will argue, smart contexts are not just about developing for contexts dependent upon immediate user needs, but also involves a shift in our field towards developing agentive technical communication products that can act for users with varying degrees of autonomy (cf. Noessel, 2017). In other words, AI creates opportunities for users to delegate tasks to AI as agent for the user. This involves changes in considering the shift to agency of AI in relation to the autonomy of the user, and a move in our field from assistive (which assist the user) to more agentive (which prompt the user to enter a new context) approaches in technical communication.
Technical communicators have to know how not only to write well, but to write well taking into account a number of factors, including complex subject matters, legal norms and standards, and different target audiences. They also need to know how to use specific software tools. Against this backdrop, turning the interested first-year student into a proficient communicator within 6 or 7 semesters (assuming a bachelor's degree) is obviously no small feat.
Software tools are often seen as an additional burden, especially as many language-loving students do not consider themselves technophiles. The "taking down the scaffold" approach turns this seeming liability into an asset by assuming that software tools can actually help learners complete a range of tasks more easily. The idea is borrowed from Risku (2000; 2009) who conceptualized technical translation as a "situated activity", a notion that was taken over for technical communication by Zehrer (2014). In a situated activity, people use certain artifacts to guide them, help them with, and remind them of certain actions and steps to be taken in order to properly perform that activity. As Risku (2009:89ff.) points out, this is true even for professionals, who use such "scaffolds" to reduce mental load. However, scaffolds are not simple environmental factors, but must be put in place, and therefore properly understood, by the professionals who later use them.
The approach proposed here is based on the idea of turning students into professionals by revealing to them the contribution of some of the scaffolds, and by teaching them how to construct some in turn. From a course content perspective, this means that students first get to use certain systems with parameters set to support them, then learn that such parameters might be set otherwise to deal with different circumstances and at last, learn how to parametrize and administer a system themselves. This way, as learning material and exemplary tasks become increasingly complex, students are presented with opportunities to dive deeper and swim further from what can be seen as a narrow, or even naïve, beginner's view of "writing".
To systematize what students learn, and to gauge the level of complexity and difficulty that each setting (as "combination of tasks") presents, the approach recasts technical communication in the form of a service blueprint. Starting with what will be visible to a customer, a service blueprint analyzes what activities are necessary before, during and after to make a specific customer interaction happen (Fließ 2001:43; cf. also Ebel 2020:18).
It is along these lines that the proposed approach "takes down the scaffold" for students: The curriculum starts out with what students see and expect – writing. It then goes on to reveal how much a good tool contributes to a smooth writing process. One step further, students learn how to prepare tools for what they have known as their writing process. They then reflect upon different scenarios and resulting modifications, and learn to prepare strategically and cooperatively while keeping economic considerations in mind.
References
Ebel, Nadin (2020): ITIL 4 - der Überblick. Einstieg, Anwendung und Foundation-Prüfung. 1. Auflage. Heidelberg: dpunkt. Fließ, Sabine (2001): Die Steuerung von Kundenintegrationsprozessen. Effizienz in Dienstleistungsunternehmen. Wiesbaden, s.l.: Deutscher Universitätsverlag (Neue betriebswirtschaftliche Forschung, 268).
Risku, Hanna (2000): Situated Translation and Situated Cognition: ungleiche Schwestern. In: Mira Kadric, Klaus Kaindl und Franz Pöchhacker (Hg.): Translationswissenschaft: Festschrift für Mary Snell-Hornby zum 60. Geburtstag. Tübingen: Stauffenberg, S. 81–92.
Risku, Hanna (2009): Translationsmanagement. Interkulturelle Fachkommunikation im Informationszeitalter. 2., überarb. Aufl. Tübingen: Narr (Translations-Wissenschaft, 1). Online verfügbar unter www.narr.de/bib/17387/9783823373872.pdf.
Zehrer, Christiane (2014): Wissenskommunikation in der technischen Redaktion. Die situierte Gestaltung adäquater Kommunikation. Berlin: Frank & Timme (Forum für Fachsprachen-Forschung, v.114).
Digital environments, from software screens to web pages to app interfaces, require individuals to orient themselves in and move through a variety of digital spaces. In these environments, usability is connected to how quickly and easily users can locate key features, identify desired functions, and move from screen to screen or feature to feature. All of these factors are connected to how the mind processes information in digital spaces and interacts with items in digital environments. The better technical communicators understand such dynamics, the more effectively they can design different digital materials to meet user needs and facilitate the use of a product.
This proposed presentation would address these factors by reviewing how the mind processes information in digital space. To do so, the presenter will focus on discussing how the mind searches for and locates digital features as well as what cognitive processes affect how persons interact with digital materials or use digital products.
Specifically, the presenter would
Overview the ways in which the mind searches for items in digital spaces
Review how the mind identifies features, functions, and other digital design items
Examine the expectations that affect how users interact with (and use) digital media
Summarize how to use cognitive aspects to guide research in and testing of digital materials
The objective of this approach would be to provide attendees with the theoretical foundation and methodological application essential to developing usable digital products for different users. To help attendees understand such concepts, the presenter will use examples of how different digital features have been developed by organizations in order to address the usability expectations of certain audiences.
Who will talk?